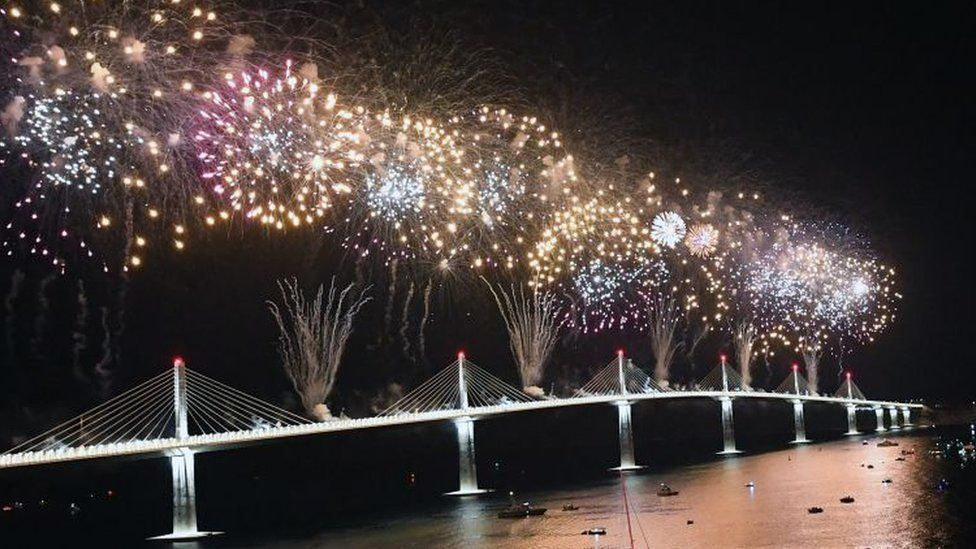 Hailed as one of the biggest moments in Croatian history, a long-awaited bridge has opened that links southern coastal areas to the rest of the country.
Until now, Croatians had to cross land belonging to Bosnia and Herzegovina.
The 2.4km (1.5-mile) Peljesac bridge was built by China but largely funded by the European Union.
Celebrations took place throughout the day, with 250 runners crossing the bridge and small boats with Croatian flags sailing beneath the six pylons.
Residents also took the opportunity to walk along the initial stretch of the bridge before the day culminated in a glittering firework display.
Chinese Premier Li Keqiang delivered a video message at the ceremony. His Croatian counterpart Andrej Plenkovic declared "tonight, we are uniting Croatia!" and described the bridge as a necessity, not a luxury.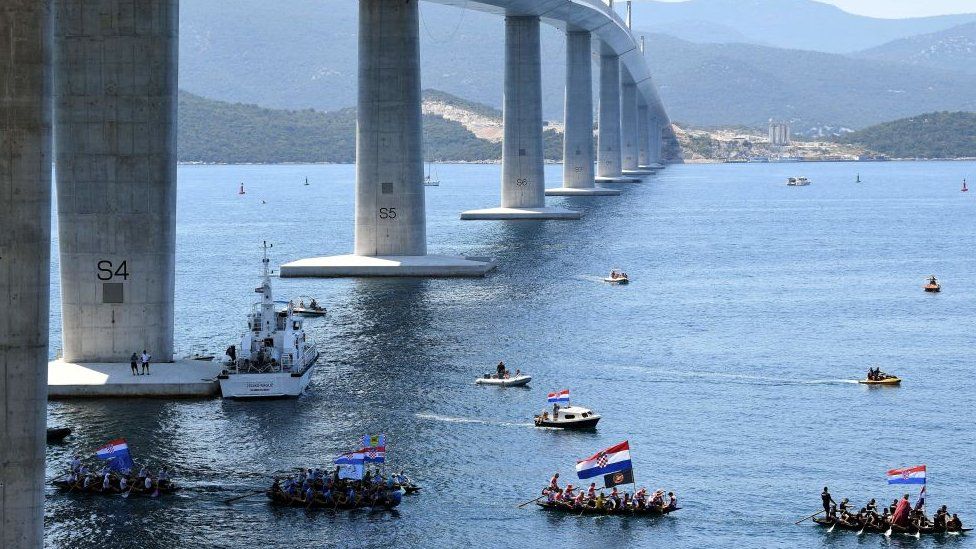 During the opening ceremony, a Croatian-made electric hypercar called the Rimac Nevera made the first official crossing.
The EU agreed to fund 85% of the bridge, to the tune of €357m (£300m), using cohesion funds for what it said would improve significantly the everyday lives of Croatians. It also funded access roads, tunnels and other infrastructure.
When the former Yugoslavia broke up and Croatia became independent in 1991, the new borders meant that two parts of the Croatian coastline were split by a 9km-long section of Bosnian coastline known as the Neum corridor.
Bosnia's right to coastal access dates back to 1699, when Neum was ceded by Dubrovnik – in modern-day Croatia – to what was then the Ottoman Empire.
As Bosnia is not in the EU and Croatia is, anyone trying to go north from the medieval city of Dubrovnik on the southernmost Adriatic coast or cross from the Peljesac peninsula to the mainland had to go through two border checks. Now anyone can drive straight along Croatia's Adriatic coast via the new bridge.
The mayor of Neum, Dragan Jurkovic, told Bosnian TV that the new bridge would reduce traffic along the coast during the summer months and that he could only see benefits in the new bridge. However, some restaurateurs and traders were concerned that the decline would be bad for the area's economy.
Tourists, many of them Czechs, Poles and Germans, have become regular visitors to Neum, where prices are considered far cheaper than in Dubrovnik but that is now likely to change.
The bridge has not been without controversy.
Bosnia initially complained the bridge would affect its access to the sea, until Croatia agreed to increase the bridge's height to 55m (181ft).
The Chinese state-owned company that won the Croatian contract for the bridge – The China Road and Bridge Corporation (CRBC) – bid far less than its European rivals. That prompted an Austrian company to file a complaint, alleging that CRBC was "price-dumping" and receiving Chinese state aid.
China's Xinhua state news agency said the bridge opening was expected to further deepen mutual trust and expand co-operation between Croatia and Beijing.