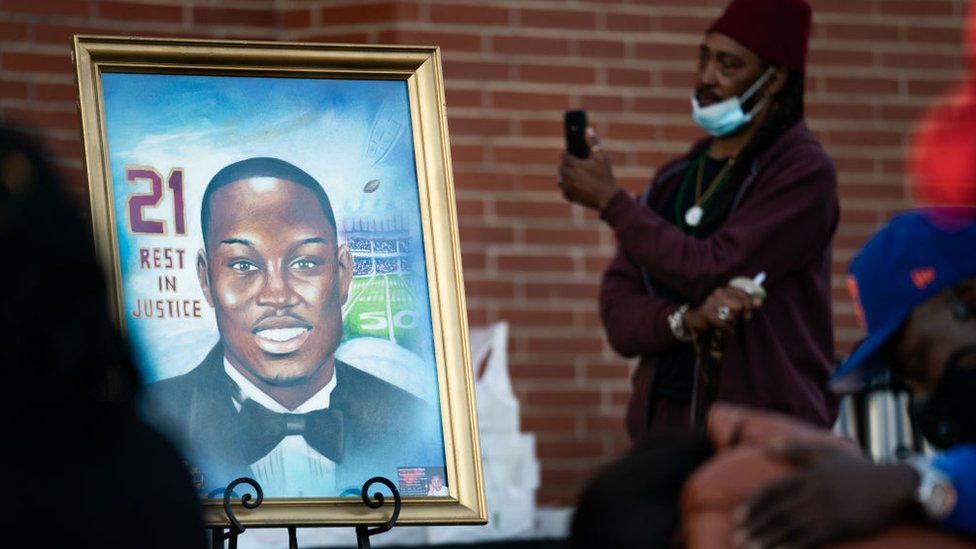 Three white men convicted of killing a black jogger have been sentenced for federal hate crimes. Travis McMichael, 36, his father, Gregory, 66, and their neighbour, William Bryan, are already serving life sentences over the murder.
On Monday, the father and son were sentenced to life in prison while Bryan was handed a 35-year jail term. They will serve their additional sentences concurrently with their state prison sentences.
Ahmaud Arbery, 25, was shot and killed during a confrontation with the three men in Georgia in February 2020. The case became a rallying cry for racial justice protesters around the US.
In February, all three men were found guilty of federal hate crimes charges. These included interfering with Mr Arbery's right to use a public street because of his race and attempted kidnapping. The McMichaels were also found guilty of a weapons charge.
In court, prosecutors sought to portray the defendants as having a long-standing contempt towards black people demonstrated by the use of derogatory and racist language in public and private.
"These three devils have broken my heart into pieces," Mr Arbery's father, Marcus, said in court during Travis McMichael's sentencing. "You hate black people".
Travis McMichael did not speak at the sentencing. His father spoke directly to Mr Arbery's family, telling them he understood "the loss that you've endured is beyond description".
Mr Arbery was out for an afternoon jog in a suburban area of Brunswick, Georgia in February 2020 when he was killed.
The elder McMichael, a neighbourhood resident, told police he believed Mr Arbery resembled the suspect in a series of local break-ins. Police have said no reports were filed regarding these alleged break-ins.
The McMichaels armed themselves with a pistol and a shotgun and pursued Mr Arbery in a pickup truck through the neighbourhood. Bryan later joined the pursuit.
The younger McMichael testified during the state trial that he tried to talk to Mr Arbery while the two were still in their truck and that Mr Arbery never threatened the trio, brandished a weapon, reached into his pockets or yelled after being confronted.
After getting out of his truck, McMichael fired his shotgun at Mr Arbery during a struggle. A post-mortem examination showed Mr Arbery had two gunshot wounds in his chest, and a gunshot graze wound on the inside of one of his wrists.
On Monday, Judge Lisa Wood declined a request from Travis McMichael's attorney that he serve his time in federal – rather than state – prison. His lawyer had argued that life in a state prison amounted to a "backdoor death penalty" and put him at the risk of being attacked by other inmates.
The judge had previously rejected a plea deal that would allow the McMichaels to serve 30 years in federal prison before returning to state custody, after Mr Arbery's mother vehemently objected. Federal prisons are generally perceived as less brutal environments than typical state prisons.
In January, Travis and Gregory McMichael were sentenced to life in prison without the possibility of parole for the shooting. At the time, the judge said that neither men had shown remorse or empathy for Mr Arbery.
While Bryan also received the maximum sentence of life, he was offered the possibility of parole in 30 years. They have appealed their state convictions.