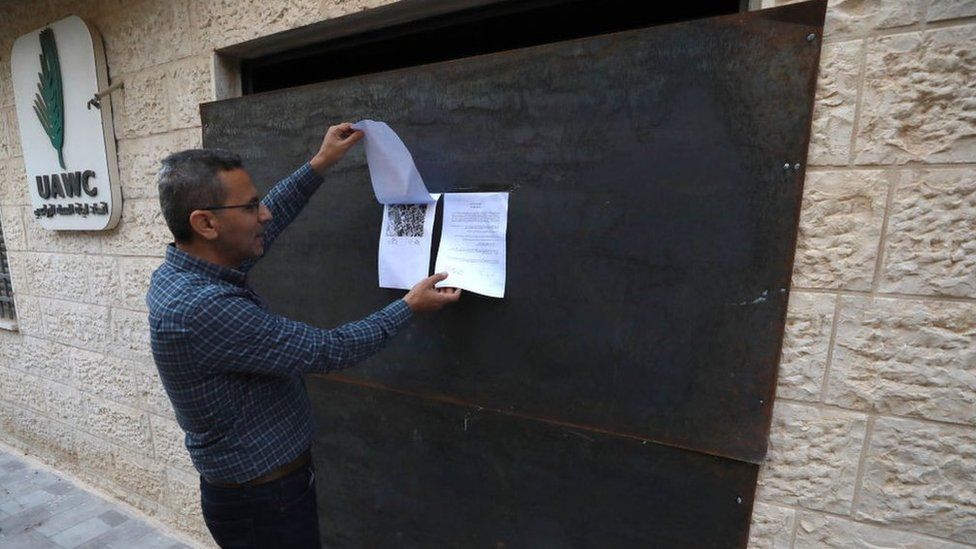 Israeli troops have sealed shut the offices of several Palestinian human rights and aid organisations, after saying last year it would designate them as terrorist organisations.
Soldiers raided the offices in the occupied West Bank at dawn, taking away paperwork and welding shut front doors.
Israeli authorities allege the groups are a front for a militant faction. The claim is rejected by the groups themselves and has been dismissed by European donor countries.
The human rights group al-Haq said soldiers entered the city of Ramallah at about 03:00 local time to raid its office, along with those of Addameer, the Bisan Center for Research & Development, Defence for Children International-Palestine, the Union of Agricultural Workers Committees (UAWC) and the Union of Palestinian Women's Committees (UPWC).
After confiscating various items, the troops welded a reinforced iron door to the outside of al-Haq's office to prevent re-entry and attached a copy of a military order warning those administering the organisation that it had to shut down immediately, the group added.
In October, Israel designated six Palestinian rights organisations as terrorist groups, saying they were diverting funds to an outlawed militant faction, the Popular Front for the Liberation of Palestine (PFLP), which has carried out deadly attacks.
"The organisations operate under the guise of performing humanitarian activities to further the goals of the PFLP terrorist organisation, to strengthen the organisation and to recruit operatives," Israeli Defence Minister Benny Gantz said on Thursday.
The groups see the raids as an attempt to silence them as some back international attempts to prosecute Israel for possible war crimes.
"They committed war atrocity actions against us to silence us," Shawan Jabarin, the general-director of al-Haq said in a video posted on twitter. "We will continue our work. We will not stop. Working in human rights is not a job."
Nine European Union states, including France and Germany, have said they will keep funding the organisations as Israel has not proved its claims.
Meanwhile, a 20-year-old Palestinian man was shot dead by Israeli troops in the city of Nablus before dawn on Thursday, Palestinian health officials said, as violence intensified in the West Bank. He was reportedly hit during a gunfight as soldiers escorted worshippers to a Jewish shrine known as Joseph's Tomb.