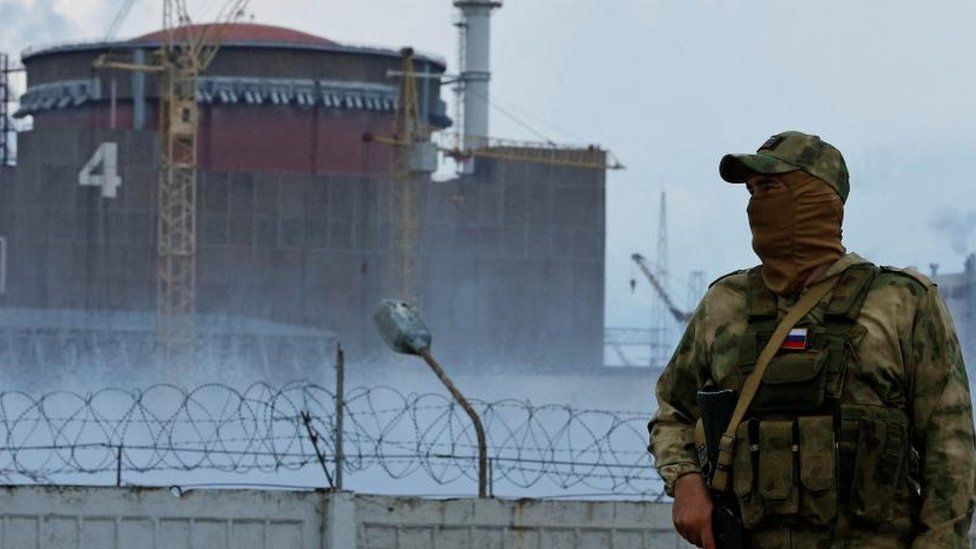 The EU is giving more than five million anti-radiation tablets to Ukraine, as fears grow of an accident at Europe's largest nuclear power plant.
The Zaporizhzhia plant is under Russian occupation and has recently come under fire, with both sides blaming each other for the attacks.
In some areas, officials are already handing out the pills, which can stop the body absorbing radioactive iodine.
Residents have been told only to take it if a radiation leak is confirmed.
So far, only people living within 50km (30 miles) of the power plant are being offered the potassium iodide tablets, but the European Union is providing Ukraine with more than five million doses which would allow for much wider distribution.
While recent fighting in the area has caused some damage to the plant, so far there has not been any recorded increase in radiation levels in the area. Nevertheless, officials are concerned further damage could cause a radiation leak, which could spread over a large area.
The UN's nuclear agency has been demanding access to the facility for several months, and a team has arrived in Ukraine in the hope of finally being allowed to inspect the site in the coming days.
The EU said on Tuesday it was providing the tablets as a "preventative safety measure" to increase protection in the area around the nuclear plant. Five million pills will come from its emergency reserves and another 500,000 from Austria.
Potassium iodide tablets were already being handed out to residents in one part of Zaporizhzhia city on Monday, and 25,000 tablets have been sent to Enerhodar – the city closest to the nuclear plant.
"In the event of an emergency, both adults and children will already be provided with iodide and will be able to protect themselves in time," said Anatoliy Kurtyev from Zaporizhzhia city council. He stressed that residents should only take the drug if an accident happens – not as a precautionary measure.
Potassium iodide is taken to prevent radioactive iodine – the main cancer-causing isotope also known as iodine-131 – from being absorbed by the thyroid gland. High levels of radioactive iodine can increase the risk of thyroid cancer in infants, children and young people, even years after exposure.
If taken at the right time at the right dose, potassium iodide will be absorbed by the thyroid gland instead of the more dangerous iodine-131, reducing the associated health risks.