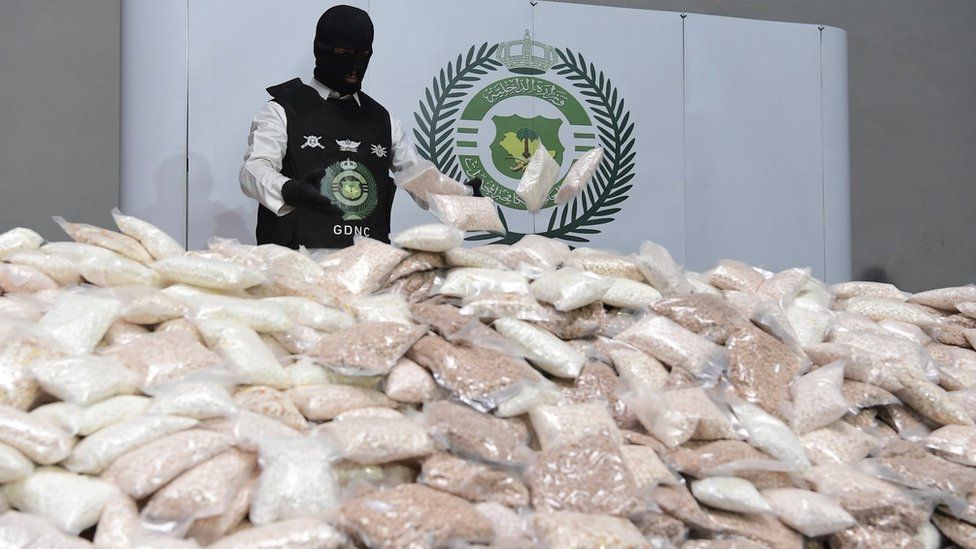 Authorities in Saudi Arabia say they have seized 46 million amphetamine pills that were smuggled in a shipment of flour – a record for the kingdom.
Security forces tracked the shipment as it arrived at the Riyadh Dry Port and was taken to a warehouse, the General Directorate of Narcotics Control said.
Six Syrians and two Pakistanis were arrested in a raid on the warehouse.
The GDNC did not name the amphetamine, but Saudi Arabia is the largest market for tablets bearing the captagon logo.
Captagon, typically a mix of amphetamine, caffeine and various fillers, is reportedly one of the most popular drugs among affluent youths in the Gulf.
A 2021 Foreign Policy article cited researchers as saying that "boredom and social restrictions", as well as easy availability, were driving the use of captagon in Saudi Arabia.
The drug has also been consumed by combatants in the civil war in Syria, who say it dims fear on the battlefield.
The global trade in captagon is growing rapidly and was worth an estimated $5.7bn (£4.9bn) last year, according to a recent New Lines institute report.
A spokesman for GDNC said the shipment of 46,916,480 amphetamine tablets seized in Riyadh was the "biggest operation of its kind to smuggle this amount of narcotics into the Kingdom of Saudi Arabia in one operation".
He stressed that security personnel were determined to combat and foil the activities of criminal networks targeting the country and its citizens, and that all people involved faced deterrent penalties.
People convicted of drug smuggling can be sentenced to death under Saudi Arabia's narcotics laws, although there has been a moratorium on executions for non-violent drug-related crimes since 2021.
The GNDC did not say where the seized pills came from, but most of the captagon confiscated in the Gulf is believed to have originated in Syria and Lebanon.
The Syrian government and allied armed groups, such as the Lebanese Hezbollah movement, have been accused of overseeing production and distribution of captagon, though they have denied any involvement in the drugs trade.
On Tuesday, the Saudi ambassador in Beirut said the kingdom had seized more than 700 million narcotic pills that had entered its territory via Lebanon over the past eight years.
Last year, the Saudi government suspended all fruit and vegetable imports of Lebanon after five million captagon tablets were hidden inside about 2,000 pomegranates shipped from Beirut.