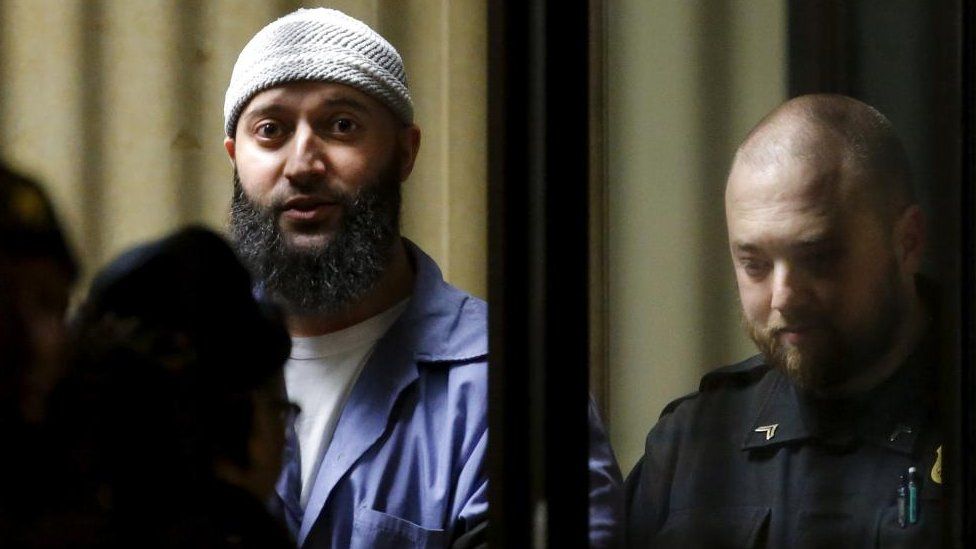 Prosecutors in Baltimore say they are re-examining the murder conviction of a Baltimore teenager in a case that spawned a hit true-crime podcast.
Adnan Syed was 17 when he was sentenced to life in prison for the death of his ex-girlfriend, Hae Min Lee, whose body was found buried in the woods in 1999.
Baltimore prosecutor Marilyn Mosby said an investigation now points to two other possible suspects.
The 2014 podcast Serial raised doubts about Syed's guilt. On Wednesday, Mrs Mosby asked the courts to throw out Syed's February 2000 conviction and put him on trial again.
"After a nearly year-long investigation reviewing the facts of this case, Syed deserves a new trial where he is adequately represented and the latest evidence can be presented," the prosecutor said in a statement.
"As stewards of the court, we are obligated to uphold confidence in the integrity of convictions and do our part to correct when this standard has been comprised."
Syed was found guilty by a jury in 2000 of premeditated murder, kidnapping, robbery and false imprisonment.
Both of the new potential suspects have been known to police since the 1999 murder, according to a court filing submitted by prosecutors on Wednesday.
One of the two – neither of whom has been named by officials, had previously threatened "to make her [Lee] disappear" or kill her, the documents says.
Prosecutors did not inform Adnan's defence team of the potentially exculpatory evidence, which poses a possible trial violation.
Lee's car was also found behind the home of one of the suspects, officials added. That information was not discovered until 2022, according to Mrs Mosby's office.
Prosecutors are not saying they believe Syed – who has now spent more than two decades in a Baltimore jail – is innocent.
"However, for all the reasons set forth below, the State no longer has confidence in the integrity of the conviction," they said in their court filing.
Syed's lawyer, Erica Suter, said in a news release: "Given the stunning lack of reliable evidence implicating Mr Syed, coupled with increasing evidence pointing to other suspects, this unjust conviction cannot stand. "Mr Syed is grateful that this information has finally seen the light of day and looks forward to his day in court."
Former federal prosecutor Neama Rahmani, head of West Coast Trial Lawyers, said there is "almost no chance" Syed will face another trial considering how long he has been in prison, and the growing possibility he is innocent.
Serial Productions, which produced the podcast, tweeted "this is big news," and noted that it is the first time that prosecutors have said they do not have confidence in his conviction.
In 2019, the state's highest appeals court turned down his bid for a new trial.
The podcast Serial suggested the evidence it had unearthed from alibi witness Asia McClain could have corroborated Syed's account that he was in the library when his ex-girlfriend was killed. He has consistently denied playing any role in Lee's death.