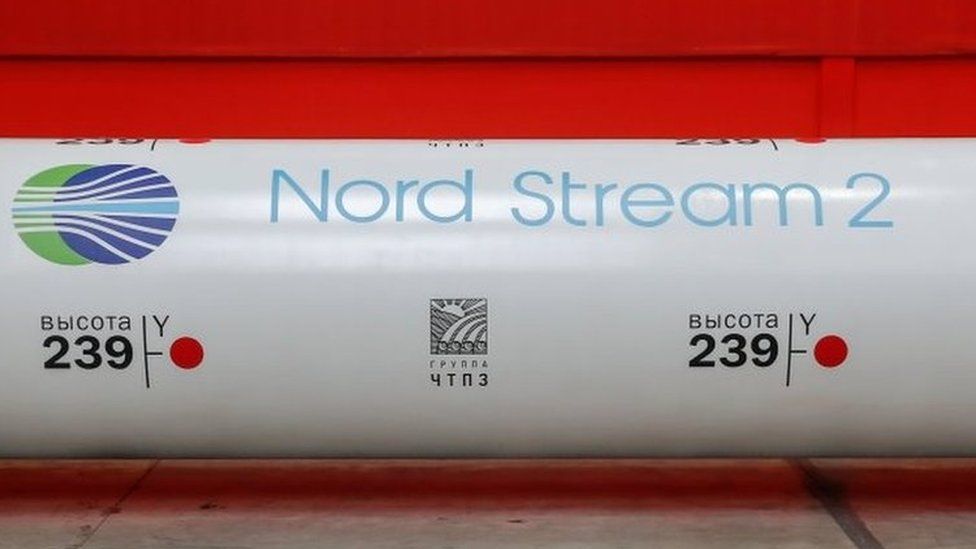 Nord Stream 2 – the controversial gas pipeline from Russia – has begun leaking in the Baltic Sea, endangering naval traffic, Denmark has warned.
It set up a prohibitive zone within five nautical miles (9km) of the pipeline near the Bornholm island.
The Danish energy ministry said it had acted after being informed about a pressure drop in the now-defunct undersea pipeline earlier on Monday.
Operating company Nord Stream 2 AG said the drop happened overnight.
"The Nord Stream 2 landfall dispatcher registered a rapid gas pressure drop on Line A of the Nord Stream 2 natural gas pipeline," it said in a statement, adding that it was investigating the matter.
The company's majority shareholder is Russia's state-owned Gazprom giant.
In its statement, the Danish energy ministry said: "There are no security risks related to the leak outside of the prohibitive zone.
"The incident is not expected to have consequences for the security of Danish gas supply."
Nord Stream 2 had been built to deliver gas from Russia to Germany and other European nations, but the multi-billion euro project was was halted after Russia invaded Ukraine in February.
However, gas had already been pumped into the pipe, and there are now concerns that large amounts of it could be released into the atmosphere.
Nord Stream 1, a parallel gas pipeline has been shut for several weeks, with Gazprom saying it was carrying out maintenance work to fix an earlier leak.
The European Union accuses Russia of using its gas supplies to blackmail Europe because of its war in Ukraine, but Moscow denies this.
Energy prices have soared since Moscow invaded Ukraine and scarce supplies could push up costs even further. There are growing fears families in the EU will be unable to afford the cost of heating this winter.
Europe is now attempting to wean itself off Russian energy in an effort to reduce Moscow's ability to finance the war, but the transition may not come quickly enough.