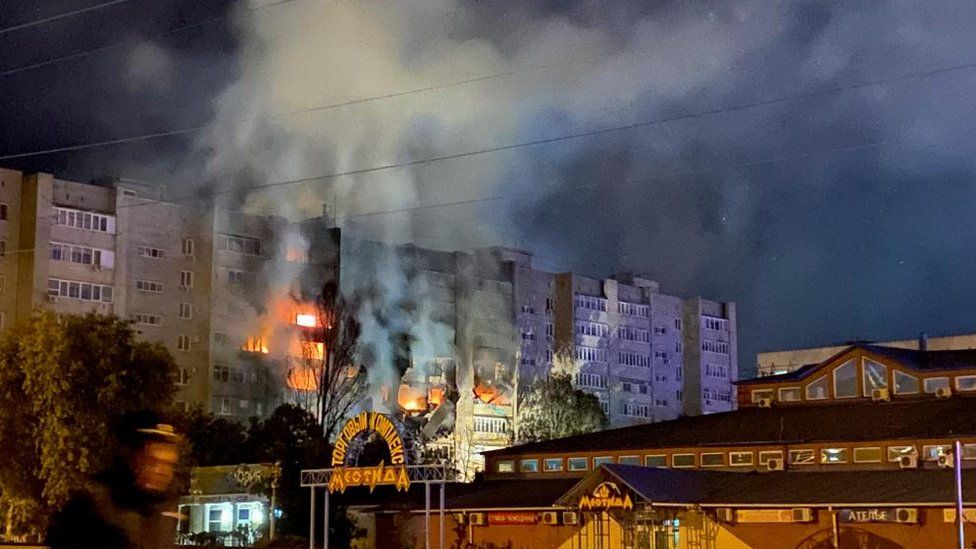 A military aircraft has crashed in a residential area of the southern Russian town of Yeysk, killing at least four people and injuring up to 25.
An apartment block was set on fire and emergency services called in. A nearby school was evacuated, reports say.
Russia's defence ministry said the plane, a Su-34 fighter bomber, was on a training flight when one of its engines caught fire on Monday evening.
The pilots in the aircraft ejected before the crash, the ministry said.
Footage has emerged apparently showing local residents trying to help one of the pilots lying on the ground nearby with a parachute behind him.
"According to a report from the pilots, who jettisoned from the plane, the reason for the crash was a fire in one of the engines during take-off," the Russian defence ministry said in a statement. "At the point where the Su-34 came down, in the courtyard of a residential block, the plane's fuel supply caught fire."
In a Telegram post (in Russian), the governor of the Krasnodar territory, which Yeysk is part of, said he was on his way to the town and all regional and local fire services were battling the blaze.
Local media report the fire engulfed five floors of the multi-storey building.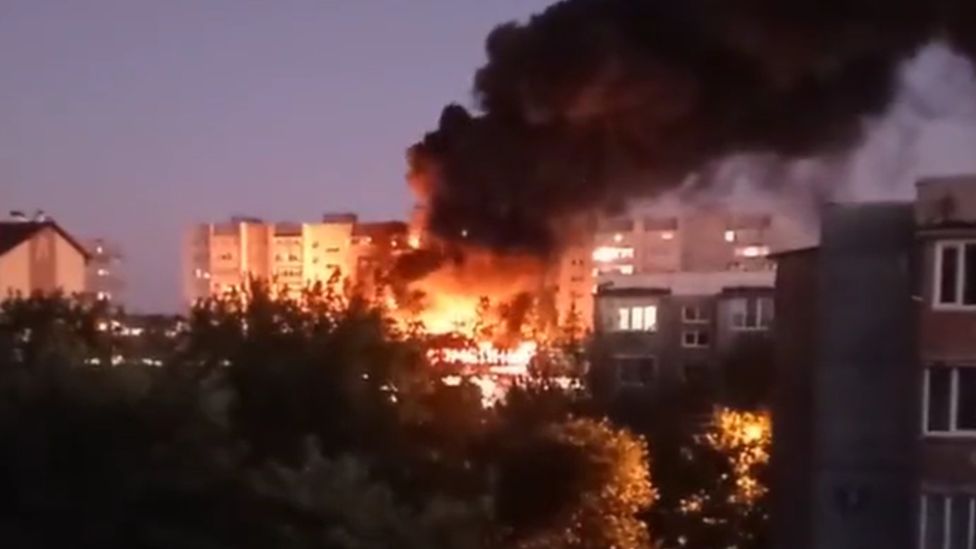 A local correspondent in Yeysk told Russia's state-run TV channel Rossiya 24 that two of the building's blocks caught fire. Pupils from a nearby secondary school were successfully evacuated, according to Russia's Vesti.ru website.
The Kremlin has ordered national and regional authorities to provide "all necessary assistance" to victims of the fire in the centre of Yeysk, and senior government officials have been dispatched to co-ordinate a crisis response centre.
Russia's Investigative Committee said it had opened a criminal case and sent investigators to the site of the crash, without giving any reasons.
Yeysk sits opposite Russian-occupied territory in southern Ukraine, separated by the Sea of Azov. The city has been used as a major training ground for Russia's naval aviation.