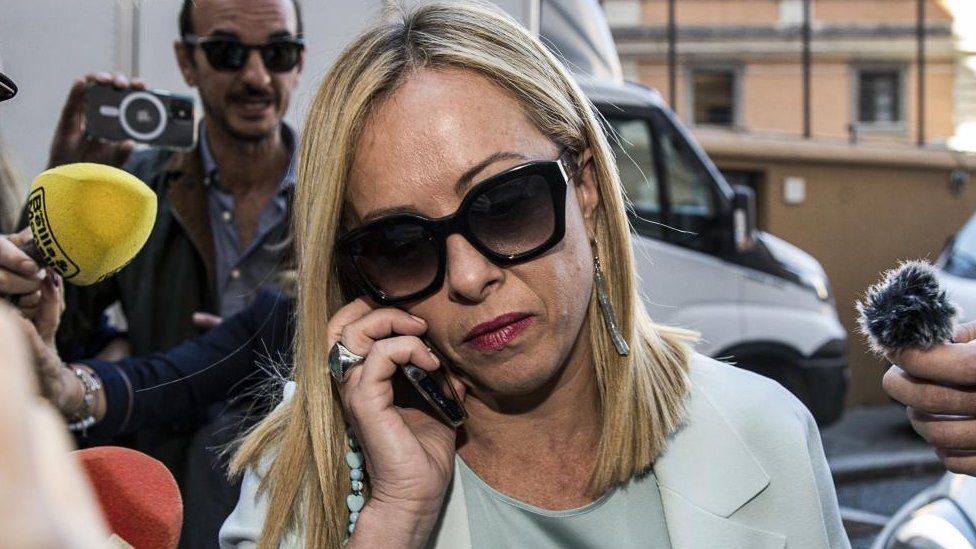 Italy's far-right leader Giorgia Meloni and her coalition allies hold talks on forming a government on Friday with President Sergio Mattarella. If the parties agree terms, a Meloni-led coalition could be sworn in this weekend, a month after elections.
Veteran ex-prime minister Silvio Berlusconi is set to join the talks, despite shaking the coalition's unity with leaked pro-Putin remarks.
Ms Meloni vowed to play a key part in Nato – the Western military alliance. "Italy with us in government will never be the weak link in the West," she said, in attempt to calm concerns about her future foreign policy. "Anyone who disagrees with this cornerstone will not be able to be part of the government, at the cost of not forming a government."
Outgoing Prime Minister Mario Draghi, who is in Brussels for an EU summit, also stressed that Italy's membership of the EU and Nato was at the heart of its foreign policy. It is now seen as almost a formality that his successor will be asked to form a government as early as Friday afternoon, despite the row surrounding the 86-year-old Mr Berlusconi – leader of centre-right Forza Italia.
In the first audio leak this week, he was heard boasting that Russia's leader had sent him 20 bottles of vodka for his birthday and called him "number one among his five best friends".
Then, in a leaked speech to party colleagues, he backed Russia's pretext for its war, baselessly blaming Ukraine's president and the West for pushing the Kremlin into an invasion.
He insists his remarks were taken out of context and that he backs the Italian and EU position on Ukraine. However, his pro-Putin comments are nothing new, last month he told Italian TV that Russia's leader had merely sought to replace Volodymyr Zelensky with a "government of decent people".
The leaks have piled pressure on Giorgia Meloni, 45, who is set to become Italy's first female prime minister and its first far-right leader since World War Two. Her other far-right ally, League leader Matteo Salvini, has also long been seen as a Putin admirer, but Ms Meloni needs both men in her coalition to form a majority.
Another key Berlusconi figure, Antonio Tajani, who hopes to become foreign minister in the new government, told centre-right counterparts in Brussels that his party and its leader were pro-Nato and against the "unacceptable Russian invasion of Ukraine".
Ukrainian presidential adviser Mykhailo Podolyak said on Twitter that while Mr Berlusconi was enjoying his Russian vodka, Giorgia Meloni was demonstrating what true principles were.
Ms Meloni has already tussled over the main government jobs with Forza Italia and the League in the weeks since her nationalist, anti-immigration Brothers of Italy party won the September elections with 26% of the vote. The two smaller parties both won little more than 8%.
Mr Berlusconi's party refused to support her pick for speaker of Italy's Senate, Ignazio La Russa, and the centre-right leader wrote a note describing Ms Meloni as over-bearing and arrogant.
Although Ms Meloni has sought to come across as moderate, the new Senate speaker is a co-founder of her party who collects memorabilia of fascist dictator Benito Mussolini. Brothers of Italy's own roots date back to the country's post-war neo-fascist movement.
Mr La Russa was first to meet the president on Thursday, followed by the new speaker of the lower house, Lorenzo Fontana. The Chamber of Deputies speaker hails from the far-right League and in 2018 praised Russia's leader as "a shining light even for us in the West".
President Mattarella later met party leaders who will form Italy's opposition. Centrist leader Carlo Calenda told reporters he had deep concern about Mr Berlusconi's pro-Putin comments and vowed not to compromise on Italy's foreign relations, while Giuseppe Conte said his Five Star movement expected a strong pro-European cabinet.
Assuming Ms Meloni confirms on Friday that she can run a government, she will submit her choice of ministers to the president, who will swear them in as early as Sunday. A vote of confidence next week is seen as a formality, given the size of the right-wing majority in both the Chamber and the Senate.
Her initial task will be to help Italians fund their energy costs. But she has also worried the LGBT community with attacks on the "LGBT lobby" and same-sex parenting, and she has called for a naval blockade of Libya to stop migrants crossing the Mediterranean.