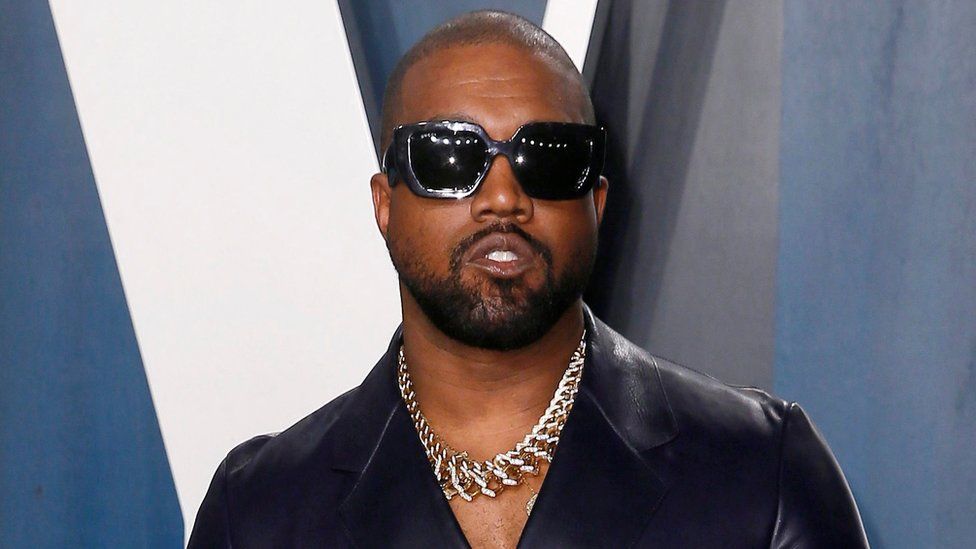 Clothing giant Adidas has cut ties with rapper Ye, known as Kanye West, saying it does "not tolerate antisemitism and any other sort of hate speech".
Adidas's Yeezy brand collaboration with Mr West was put under review, after he showed a "White Lives Matter" T-shirt design at Paris Fashion Week. Days later, the rapper posted anti-Semitic comments on his Twitter account.
His products will be pulled from sale with immediate effect, said Adidas.
The sportswear brand has previously said the Yeezy brand collaboration with Ye was one of the most successful in the company's history. Cutting the partnership means Adidas will make a net loss of £217m in 2022 as a result, it said. Ye, who has been diagnosed with bipolar disorder, had previously accused Adidas of stealing his designs in a now-deleted Instagram post.
In a statement on Tuesday, Adidas wrote: "Adidas does not tolerate antisemitism and any other sort of hate speech. Ye's recent comments and actions have been unacceptable, hateful and dangerous, and they violate the company's values of diversity and inclusion, mutual respect and fairness."
Instagram and Twitter suspended Ye's account in the days following his anti-Semitic remarks. His business partnerships have also come under increasing pressure: Bank JP Morgan and clothing retailer Gap said in recent months that they were ending their relationship with Ye.
Ye accused Gap of not honouring terms of their deal, including by failing to open standalone stores for his Yeezy fashion label. Gap wrote in a statement on Tuesday that it will be removing Yeezy Gap products from its stores, and that it had shut down the YeezyGap.com website.
"Antisemitism, racism and hate in any form are inexcusable and not tolerated… We are partnering with organisations that combat hate and discrimination," Gap said on its Instagram account, @yeezyxgap.
High-end fashion house Balenciaga and talent scouts Creative Artists Agency also cut ties with Ye earlier in October. Film and television production company MRC said on Monday it will not be airing its recently completed documentary on the rapper.
"Kanye is a producer and sampler of music. Last week he sampled and remixed a classic tune that has charted for over 3,000 years – the lie that Jews are evil and conspire to control the world for their own gain… As leaders of this company (a Jew, a Muslim, and a Christian), we feel duty bound to say to all of you this is a pernicious, terrible use of false logic," MRC wrote on Monday.
Shares in Adidas fell as much as 8% after the announcement but have since pared their losses.
A spokesperson for Campaign Against Antisemitism said: "Adidas has finally joined other brands and agencies and cut ties with Ye (Kanye West). This would not have happened without the almost 175,000 who signed our petition and the celebrities and influencers on both sides of the Atlantic and around the world who helped promote it and amplified the message."
The rapper has also lost his position in Forbes magazine's list of billionaires. The magazine estimates the loss of the Adidas partnership has cut Ye's net worth from $1.5bn to $400m.