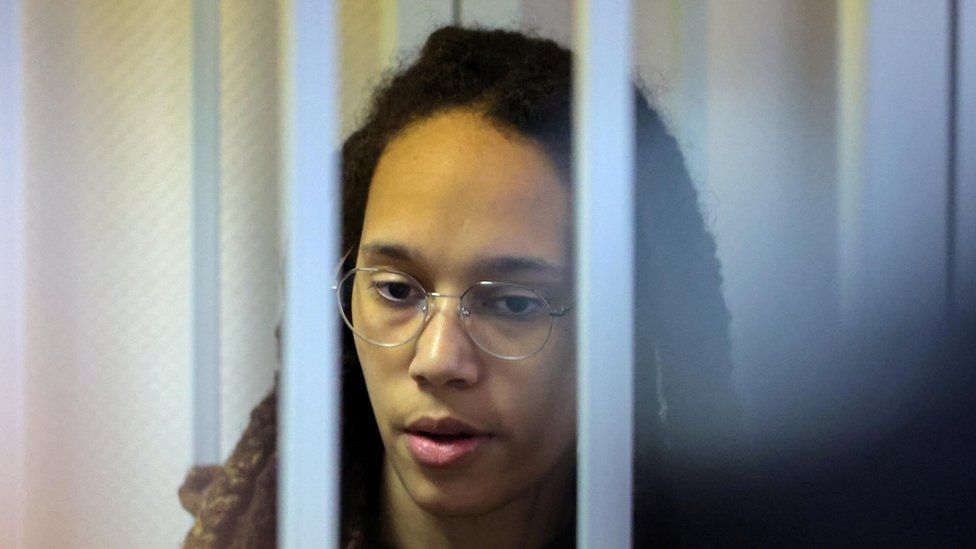 A Russian court has rejected an appeal by US basketball star Brittney Griner against her nine-year jail term for drug charges.
The court near Moscow upheld the sentence, with the state prosecutor calling it "fair".
The double Olympic winner apologised for her "honest mistake" in the appeal hearing via video link, saying it had been "very, very stressful". Griner, 32, was convicted in August of smuggling and possessing cannabis oil.
It was not immediately clear whether all her legal routes had been exhausted. She is due to serve her sentence in a penal colony. The WNBA star's lawyer, Alexander Boykov, said his team hoped that a prisoner exchange would be possible.
In August, the Kremlin raised the possibility of a prisoner swap between the US and Russia involving the basketball player. Reports in US media suggest imprisoned Russian arms trafficker Viktor Bout – known as the Merchant of Death – could be transferred by Washington to the Russian authorities as part of the deal.
Mr Boykov said: "No judge, hand on heart, will honestly say that Griner's nine-year sentence is in line with Russian criminal law." He added his legal team would be in talks with Griner as to whether she would want to pursue a further appeal.
The White House called the legal proceedings in Griner's case a "sham", and a top US diplomat who attended the hearing called the sentence "excessive and disproportionate".
The sports star spoke to the appeals court of three judges remotely from her detention centre in a town near Moscow.
"I really hope that the court will adjust this sentence because it has been very, very stressful and very traumatic," she had told the court. "People with more severe crimes have gotten less than what I was given," she added.
Considered one of the world's top women's basketball players, Griner was detained on 17 February at an airport near Moscow when vape cartridges containing cannabis oil were found in her luggage. She had come to Russia to play club basketball during the US off-season.
Her case has become subject to high-profile diplomacy between the US and Russia, whose relations plummeted after Russia invaded Ukraine in February.