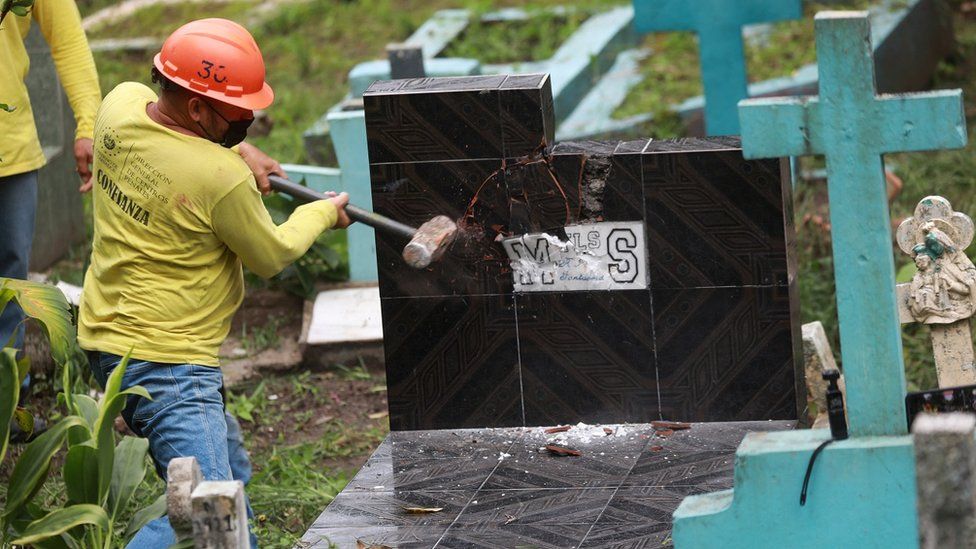 Prisoners in El Salvador have been destroying gang members' graves in a government bid to weaken their power.
Armed with sledgehammers and crowbars, inmates were sent to cemeteries in Santa Tecla to destroy the tombs of the town's powerful Mara Salvatrucha gang.
Also known as MS-13, it's thought to be one of the world's most brutal gangs, with a reputation for extreme violence.
The country's head of prisons said the graves were being destroyed because "no terrorist deserves any recognition".
Osiris Luna added that this was "why we destroy all traces of these groups. In this country, gangs no longer have a place."
The destruction of the tombs in the suburb of the capital, San Salvador, and nearby Colón is being carried out at a time of year when families visit their loved ones' graves for Day of the Dead (Día de Muertos).
The town's mayor said inmates had destroyed nearly 80 tombstones in the cemetery and also got rid of gang-related graffiti.
One man who was taking flowers to a relative's grave on Wednesday said that while it used to be "normal to see gang members inside the cemetery, today there's no danger".
In 2012, El Salvador had the highest murder rate in the world and since then authorities have been cracking down on gangs.
A state of emergency has been enforced since March, when gang violence left 62 people dead in one day.
Under the measures, certain constitutional rights such as the right to assembly have been curtailed and the security forces have been given more leeway to carry out arrests. The sentences for gang membership have also been increased.
More than 56,000 people have been arrested for alleged links to gangs.
Human rights groups say the measures, which allow police to arrest suspects without warrants, have led to arbitrary detentions, including those of children. But the government argues they have made the country safer.
There have been at least 80 deaths of people in custody since the state of emergency began.