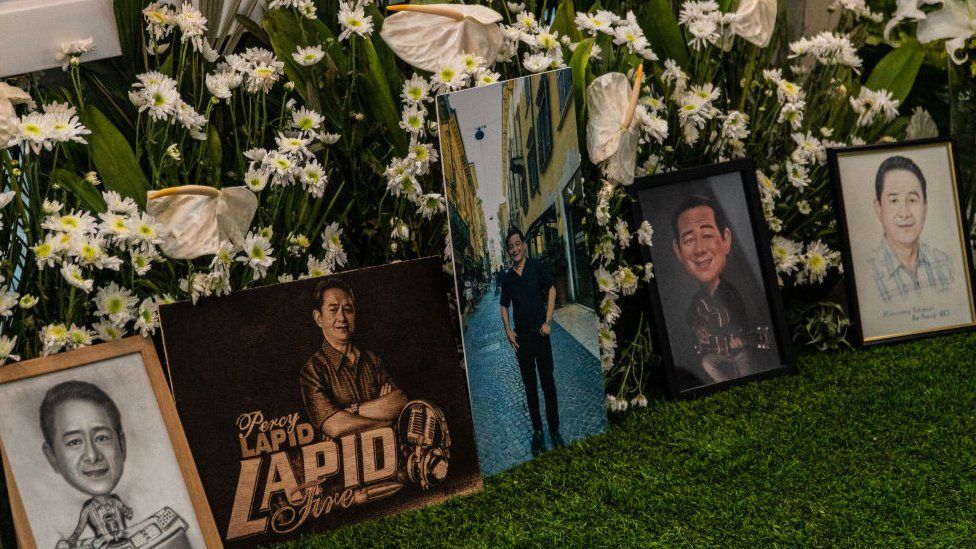 Police in the Philippines have accused the head of the country's prison service of ordering the killing of a prominent radio journalist.
Percival Mabasa, 63, was shot dead last month as he drove to his radio studio in a suburb in the capital Manila.
He had earlier aired allegations of corruption against Bureau of Corrections director general Gerald Bantag, said officials.
Mabasa was also an outspoken critic of former president Rodrigo Duterte.
Mr Bantag, who is currently suspended from duty, will "probably be the highest official of (the) land ever charged with a case of this gravity", said Justice Secretary Crispin Remulla, according to an AFP report.
Police have also filed a murder complaint against his deputy security officer Ricardo Zulueta. The alleged gunman, Joel Escorial, surrendered to authorities earlier in October after his face was captured from security footage.
Mr Bantag and Mr Zulueta have also been accused of ordering the killing of another prison inmate, who allegedly passed on the kill order to the gunman.
Mr Bantag allegedly ordered Mabasa's murder following "the continued expose by the latter against the former on his show", Eugene Javier of the National Bureau of Investigation told reporters.
Earlier last month, Mr Bantag, who had been hired by former president Rodrigo Duterte, had reportedly told broadcaster DZRH that he had nothing to do with the killing.
It will be up to prosecutors at the justice department to decide if there is enough evidence to file charges in court.
Mabasa, who went by the name Percy Lapid on his radio show, was killed on 3 October – the second journalist to be killed since current President Ferdinand Marcos Jr took office.
"That the incident took place in Manila indicates how brazen the perpetrators were, and how authorities have failed to protect journalists as well as ordinary citizens from harm," the National Union of Journalists of the Philippines had earlier said.
At least 187 journalists have been killed in the past three decades in the Philippines, according to international watchdog Reporters without Borders (RSF). RSF ranks the Philippines 147 out of 180 countries on its Press Freedom Index, down nine places from 2021.