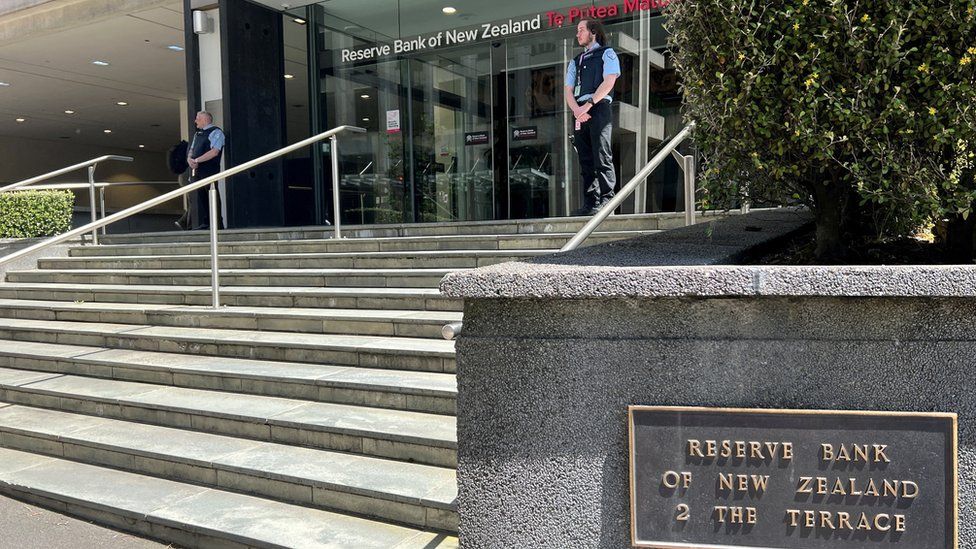 New Zealand's central bank has stepped up its fight against soaring prices, raising its key interest rate to the highest level in over 13 years.
The Reserve Bank of New Zealand (RBNZ) increased its key rate of interest by 0.75 percentage points to 4.25%.
That was the biggest rise since the rate, known as the official cash rate, was introduced in 1999.
It comes after the country's annual inflation rate stood at 7.2% in the three months to the end of September.
Like much of the rest of the world, New Zealand has seen the cost of living rise sharply as the global economy emerges from the pandemic and the war in Ukraine has pushed up the cost of fuel and food.
The RBNZ's updated forecasts also pointed to the country's economy falling into recession in September next year. A recession is usually defined as when an economy shrinks for two three-month periods – or quarters – in a row.
"Because the New Zealand economy is starting from a position of very high inflation and acute labour shortages, an economic contraction is likely," the RBNZ said in a statement.
"Trying to avoid an economic contraction by limiting any interest rate increases in the near term would likely lead to a longer period of high inflation. In turn, this would likely result in higher interest rates and a larger contraction eventually being required to bring inflation and employment back to a more sustainable path," it added.
Economists at the bank ANZ welcomed the move.
"Hope is not a strategy. The RBNZ Monetary Policy Committee gets that, and deserves a pat on the back for facing the challenges head-on. If the facts change, they'll change their minds. But right now, the fact is that high inflation is looking increasingly entrenched, and dithering would only make the problem worse," ANZ Research said in a note to investors.
During a parliamentary hearing on Wednesday, New Zealand's Finance Minister Grant Robertson said the world economy faced a "year of reckoning" in 2023. "Countries will either be in recession or feel like they are," Mr Robertson added.
After the RBNZ interest rate announcement, the New Zealand dollar hit a three month high against the US dollar before easing a little.