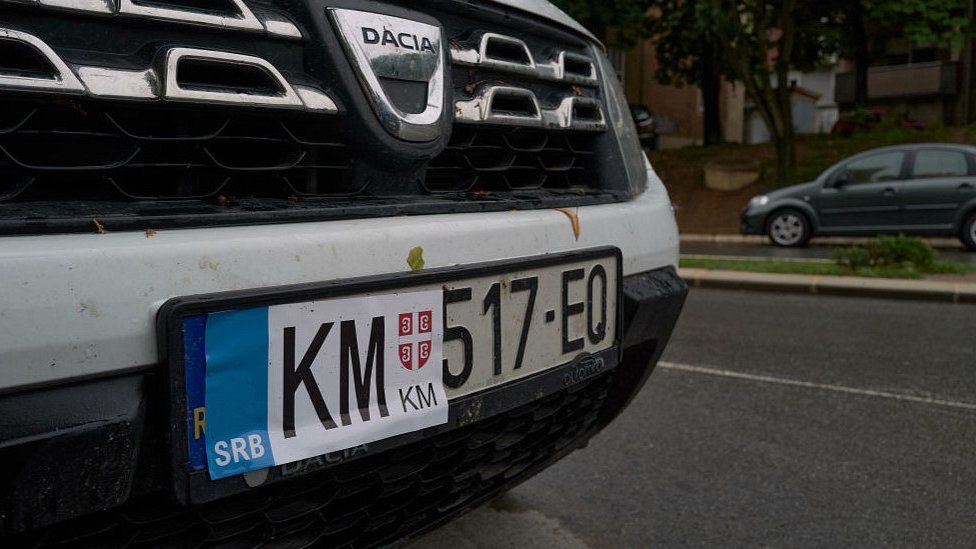 Kosovo and Serbia have agreed steps to defuse a row over Serbian car number plates, which had threatened to trigger violence.
EU foreign policy chief Josep Borrell tweeted "We have a deal!" and said both sides would strive to normalise relations. Kosovo declared independence from Serbia in 2008.
Kosovo had threatened to start fining drivers from Thursday if they continued using number plates issued by Belgrade. But Brussels talks resulted in a deal.
Mr Borrell said Serbia would stop issuing licence plates with Kosovo cities' denominations, and Kosovo would not demand that vehicles with Serbian plates be re-registered.
On Monday he expressed exasperation when Kosovo refused to accept the EU's proposed deal.
Kosovo authorities want the ethnic Serb minority to surrender their Serbian-issued plates. The government in Pristina has argued that plates pre-dating the territory's 1999 war for independence from Serbia can no longer be valid. Kosovo police were due to impose fines of €150 to holders of Serbian-issued plates.
The 50,000 Serbs in northern Kosovo only accept local Serb institutions, and there have been demonstrations against Pristina's licence plate policy. Before Wednesday's compromise, Serbia insisted that vehicles crossing its border from Kosovo bear Serbian-issued stickers on their Kosovan plates.
Serbia's President Aleksandar Vucic held talks in Brussels on Monday with Kosovo Prime Minister Albin Kurti, with EU mediation. Kosovo Serbs rallied again on Wednesday against Mr Kurti's government, while Brussels talks resumed between Serbian official Petar Petkovic and Kosovo Deputy Prime Minister Besnik Bislimi.
In the divided town of Mitrovica – long a flashpoint between Kosovo's Serbs and ethnic Albanians – hundreds of Serb women accused Pristina of seeking to "ghettoise" the Serb minority. They held placards saying "We want Peace" and "Kurti, we will not give you our children".
About 3,700 Nato peacekeeping troops remain deployed in Kosovo – the KFor force, to prevent any flare-up in the former Serbian province.