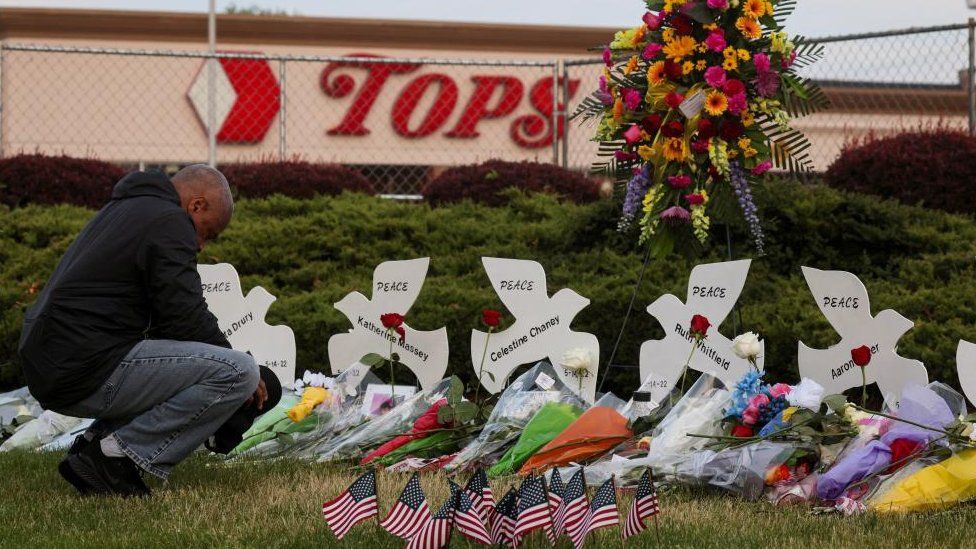 A white gunman who shot and killed 10 people in a racially motivated attack in Buffalo, New York, has pleaded guilty to murder and terrorism charges.
The plea means he will be sentenced to life in prison without parole. New York does not have the death penalty.
The 19-year-old killer initially pleaded not guilty to the state charges in June. "I understand this is a momentous and tremendously emotional event," Judge Susan Eagan said in court on Monday.
The judge named each victim and asked the gunman if he had killed them because of their race. He showed little emotion as he said "yes" to each charge. The charges include first-degree murder, murder as a hate crime, and domestic terrorism motivated by hate.
The gunman is also facing multiple federal charges over the 14 May shooting, which could be punished with the death penalty. The attack happened after the gunman drove more than 320km (200 miles) across the state to a predominantly black neighbourhood in Buffalo, New York's second-largest city.
Payton Gendron, dressed in military gear, drove into the car park at the city's Tops Friendly Market and began livestreaming the shooting spree from a camera fastened to his head.
All of the 10 people who were killed were black, three others were wounded. The victims ranged in age from 32 to 86. They included eight shoppers, a store security guard and a church deacon that drove people to and from the store to do their shopping.
"Our client pled guilty to every count of the indictment with the full knowledge that he will spend the rest of his life in prison with no chance of parole," the gunman's lawyer Brian Parker said after Monday's court hearing. "This critical step represents a condemnation of the racist ideology that fuelled his horrific actions," Mr Parker added.
He said the surviving victims and relatives of those killed would have the opportunity to address the gunman in court on 15 February.
Buffalo Mayor Byron Brown said the suspect had travelled to the supermarket with the specific intention of ending "as many black lives as possible". The mayor was present on Monday in the courtroom, a short distance from where the attack occurred.
A 180-page document seemingly authored by the alleged attacker has since emerged, in which he describes himself as a fascist and a white supremacist.
Last week, a lawyer for the victims' families said they expected the guilty plea because it would avoid "a lengthy trial that… would be very difficult for the families". "I think it was pretty clear that they had no real defence," lawyer Terrence Connors, who represents the families of some of the victims, told NBC News.
Meanwhile, Erie County District Attorney John Flynn noted that the case marked the first time a person had been charged under a 2020 state law against domestic terrorism motivated by hate. Speaking outside the court, he called the plea "swift justice".
Civil rights lawyer Benjamin Crump, who is representing some of the families of victims, called for the attacker to be given the "most-harsh sentence" possible. "We don't want it to be marginalised because these were black people," he said. "We want the whole world to never let this be swept under the rug."