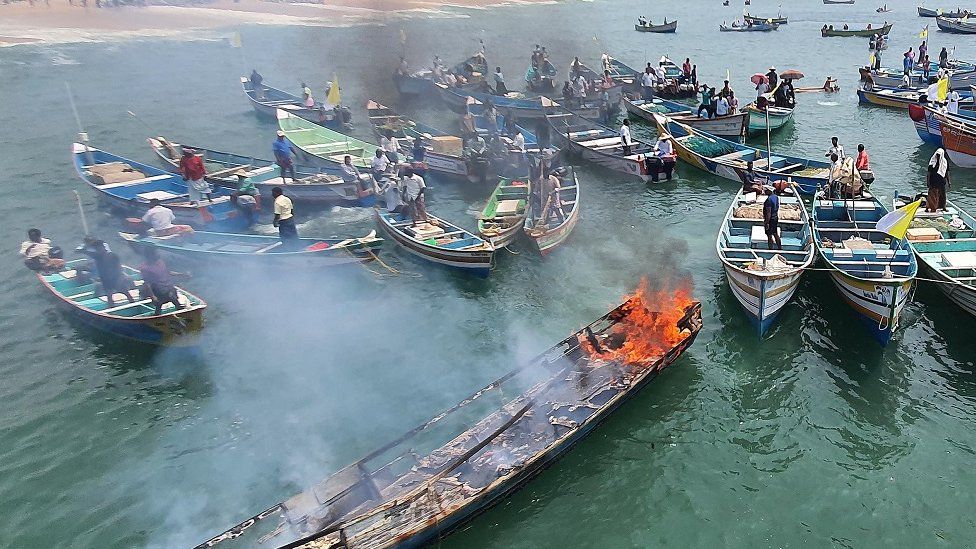 A mob stormed a police station in the southern Indian state of Kerala on Sunday night, injuring 36 police officers, as months of protests against a port project escalated into violence.
The port is being built by Adani Ports and SEZ Ltd, owned by Asia's richest man, Gautam Adani.
Protesters, mostly local fishermen, have alleged that the $900m project is causing coastal erosion and destroying their livelihoods.The company has denied the allegations.
The protests have been going on for more than 100 days but had been largely peaceful until now. Many of the protesters say their homes have been destroyed by coastal erosion, forcing them to live in temporary shelters.
The company, however, has said that the project complies with environmental laws and that sea erosion is occurring due to climate change.
Last week, the Kerala high court had said that the protesters must comply with its earlier order to allow "unhindered ingress and egress" to the project site.
But over the weekend, protesters blocked the company's vehicles from entering the construction site, prompting police to arrest some of them.
On Sunday night, hundreds of protesters stormed the local police station, leading to clashes with the police.
"A mob gathered at the police station in the evening and demanded the release of a few persons who were arrested in another case," a senior state police official told reporters, adding that they had deployed around 900 police personnel in the area.
Several protesters were also injured, and some police vehicles were damaged. Around 3,000 people have been charged by police in connection with the violence. But Eugene H Pereira, a vicar general who was one of the convenors of the protest, blamed the police for provoking the protesters who, he said "were ready to leave the area without creating any trouble".
Adani Ports, India's largest port operator, signed the deal in 2015 to build the port at Vizhinjam in Thiruvananthapuram, Kerala's capital city.
The company operates nine feeder ports across India and the Vizhinjam port is expected to meet all its transhipment requirements once ready.
It has said that the port, once completed, would be "India's gateway to international transhipment" due to its proximity to international shipping routes.
The port was initially scheduled to be opened in 2019 but work was delayed after a deadly cyclone hit the state in 2017, and due to a shortage in construction material. It is now set to open in September 2023.
The opposition Congress party, which was in power when the deal was signed, alleged that the current government had "ignored" a rehabilitation package for displaced people which was originally part of the agreement.