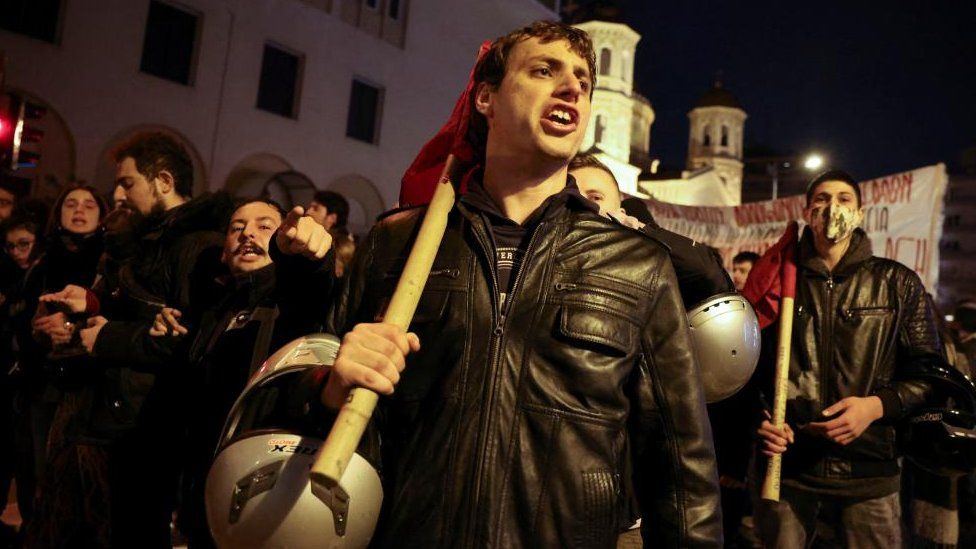 A teenager is fighting for his life in a Greek hospital after a policeman shot him in the head as he fled a petrol station, allegedly without paying.
The officer fired two shots at the 16-year-old Roma boy in the second biggest city Thessaloniki.
Protesters took to the streets on Monday, throwing petrol bombs at police. The shooting has highlighted the recurrent issue of police violence in Greek cities.
Last year an 18-year-old Roma man called Nikos Sampanis was fatally shot in a car chase near Athens and on 6 December 2008 a 15-year-old boy was shot dead in the capital during a police night patrol.
Alexis Grigoropoulos's death in the central district of Exarchia is remembered every year with big protests in Athens and other cities. Several thousand officers were deployed in the capital on Tuesday to prevent trouble.
In the latest shooting, the teenager filled up his vehicle with €20 of petrol and then left. CCTV released on Tuesday revealed that four policemen were inside the petrol station at the time.
The 16-year-old drove away chased by police on motorbikes. Police said he then turned his vehicle towards them with the aim of ramming into them.
"I fired once in the air and once towards the vehicle. Colleagues' lives were at risk," the 34-year-old officer was quoted as saying. He was later suspended from duty and charged with carrying out the shooting.
News of his shooting prompted protests from the local Roma community outside the hospital in Thessaloniki where the boy had surgery to remove the bullet from his head. Protesters joined friends and relatives at the scene and stones were thrown at police, who responded with stun grenades.
"And what if he didn't pay? Did they have to kill him?" his father told Greek media, adding that the boy had made a mistake and police should have arrested him at home.
Local reports say Roma protesters burned tyres and rubbish bins in the west of the city. The police officer charged with the shooting appeared in court accused of attempted homicide and other offences.
Video from outside the court later went viral showing a man identified as the boy's father being manhandled by police outside the court. The man is seen being thrown to the ground, surrounded by riot police.
According to the Council of Europe, the Roma (Gypsies) are Greece's biggest minority and number some 270,000, mostly living in makeshift accommodation.
As the boy lay in a critical condition in hospital in Thessaloniki, his lawyer told reporters that they did not want him to become another Alexis Grigoropoulos.
Theofilos Alexopoulos told Thess Today that his life was hanging by a thread but they wanted him to survive and for the plight of Roma people to be recognised.