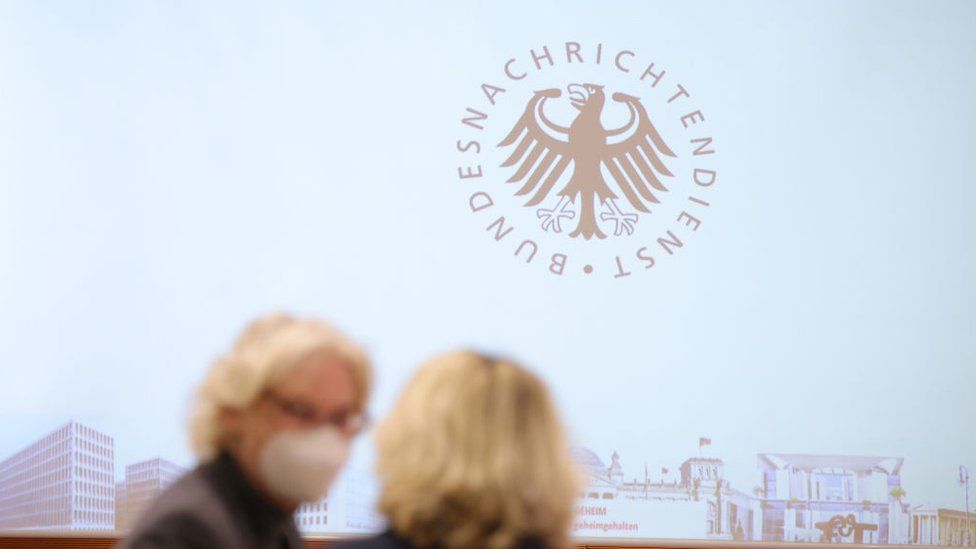 German authorities have arrested an employee of its BND foreign intelligence agency on suspicion of passing state secrets to Russia.
The accused, named as Carsten L because of privacy rules, was arrested in Berlin in a case of possible treason.
Authorities searched his flat and workplace as well as the home of another person.
Foreign intelligence chief Bruno Kahl said releasing more details about the case could be of use to Moscow.
"With Russia, we are dealing with an actor on the opposite side whose unscrupulousness and willingness to use violence we must reckon with," Mr Kahl said. "Every detail of this operation that becomes public means an advantage for this adversary in its intention to harm Germany."
Carsten L was remanded in custody on Thursday, a day after his arrest in the German capital. Offices were also searched at the former BND headquarters at Pullach near Munich.
He is suspected of sharing information with Russia this year which he obtained during the course of his professional activities. Federal prosecutors did not elaborate whether that was before or after Russia's invasion of Ukraine.
Chancellor Olaf Scholz was informed of developments several weeks ago, according to the Spiegel website, and an arrest warrant was issued on 16 December.
Before the 24 February invasion, Germany had pursued a policy of using trade and energy to build bridges with Moscow, most notably through Russia's largest gas pipeline to Europe, Nord Stream.
However, shortly after the war began the chancellor announced a new era dubbed "Zeitenwende" – or turning point in history – and Berlin has become one of Moscow's biggest critics in Europe, boosting defence spending and reducing Russian energy imports.
Germany is one of several European states that have arrested suspected Russian spies in recent weeks. Norway has accused an academic of spying for Russia and Sweden has arrested two Swedish brothers and a man in his 60s. This week, Austria said it had identified a Greek citizen suspected of spying for Moscow.
Earlier this year, a German army reserve officer was put on trial, accused of sharing information with Russian intelligence between 2014 and 2020.
However, this is the first time a BND employee has been arrested for suspected treason since Markus Reichel was detained in 2014. He was later found guilty of handing documents to the CIA and Russian intelligence, and sentenced to eight years in prison.