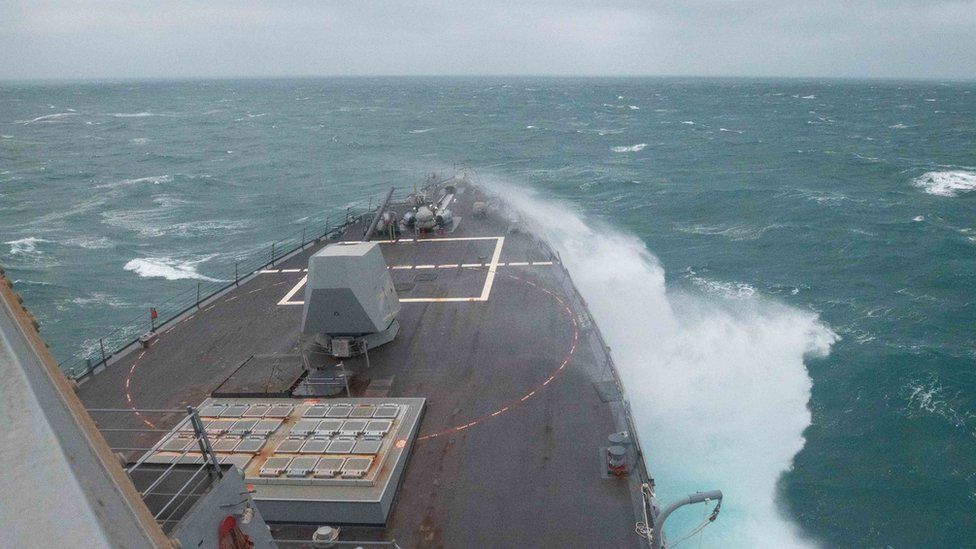 A US warship sailed through the Taiwan Strait between Taiwan and the Chinese mainland on Thursday, prompting criticism from Beijing.
The US military said the USS Chung-Hoon's transit showed the US commitment to a "free and open Indo-Pacific".
But a Chinese embassy spokesman in Washington said the voyage was to "flex muscles" and accused the US of "undermining peace and stability".
Tensions in the Taiwan Strait soared last year.
China carried out its biggest ever military exercises around the island following a visit there by former US House Speaker Nancy Pelosi in August.
China claims Taiwan as part of its territory and has vowed to unify it, by force if necessary. Self-ruled Taiwan sees itself as distinct from the mainland.
The Chinese military said it had monitored the USS Chung-Hoon's transit. Its embassy spokesman added the country would "safeguard its national sovereignty and territorial integrity."
The vessel is named after Rear Admiral Gordon Pai'ea Chung-Hoon, who served in the US navy during the Second World War.
Tensions between Washington and Beijing have risen in recent years and Taiwan is a flashpoint in the relationship, with the US walking a diplomatic tightrope on the issue.
The US abides by the "One China" policy – a cornerstone of the two countries' diplomatic relationship which recognises only one Chinese government – and has formal ties with Beijing and not Taiwan.
But it also maintains a "robust unofficial" relationship with the island. That includes selling weapons for Taiwan to defend itself.
Last month, the US accused a Chinese air force jet of carrying out an unsafe manoeuvre after it flew within 20 feet of a US air force plane over the South China Sea. China subsequently accused the US plane of carrying out an unsafe action.