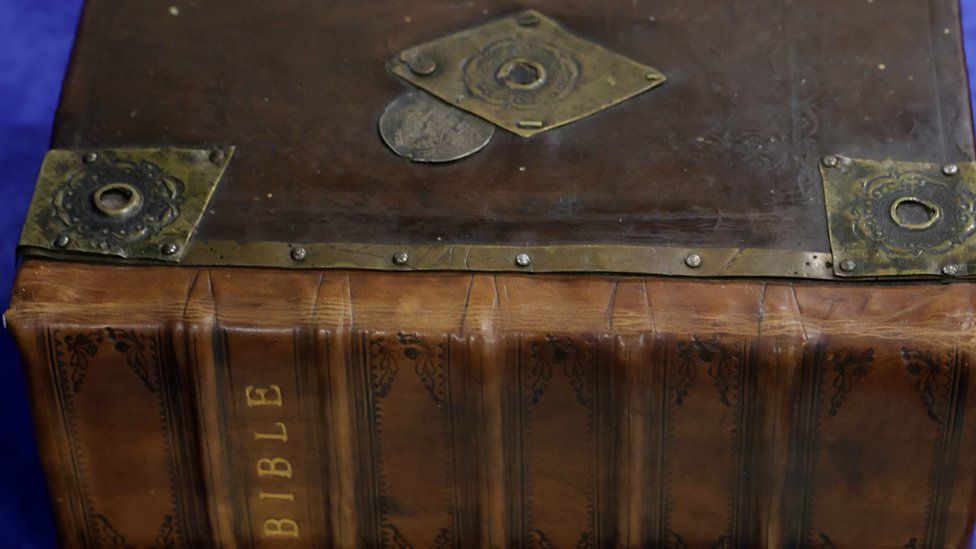 A 400-year-old Bible which was taken to the New World by the founder of a town in Massachusetts is set to go under the hammer in east Belfast.
The copy of the Geneva Bible is valued at between £5,000 and £10,000 by Bloomfield Auctions.
It was printed in 1615 and was taken to what is now the United States in 1633 by Elizabeth Pole.
The Geneva Bible was the first mechanically printed, mass-produced Bible available to the public.
It was first published in 1560 – half a century before the King James Bible.
The edition being sold on Tuesday was owned by Elizabeth Pole, who travelled with her brother on the Speedwell to the Plymouth Colony.
Originally from Devon, she went on to found the town of Taunton in Massachusetts and is believed to be the first woman to establish a town in North America.
The copy was printed by Robert Baker, printer to Elizabeth I and James I and VI.
Bloomfield Auctions managing director Karl Bennett said he expected worldwide interest in it because of its historical significance and its connection to the modern US.
The Bible was presented to Elizabeth's father Sir William Pole by the Archbishop of Canterbury in recognition of his services to the Church and the poor of Devon.
When Elizabeth died the Bible was returned to her family in Devon and it remained in the possession of the Pole-Carew family until the mid-20th century when it was sold to a collector from Northern Ireland.
It is being sold as part of a private collection from a gentleman's residence.
Other items up for auction include a watercolour from 1853 and an oil painting from 1895 – both by the Victorian artist Thomas Sidney Cooper.