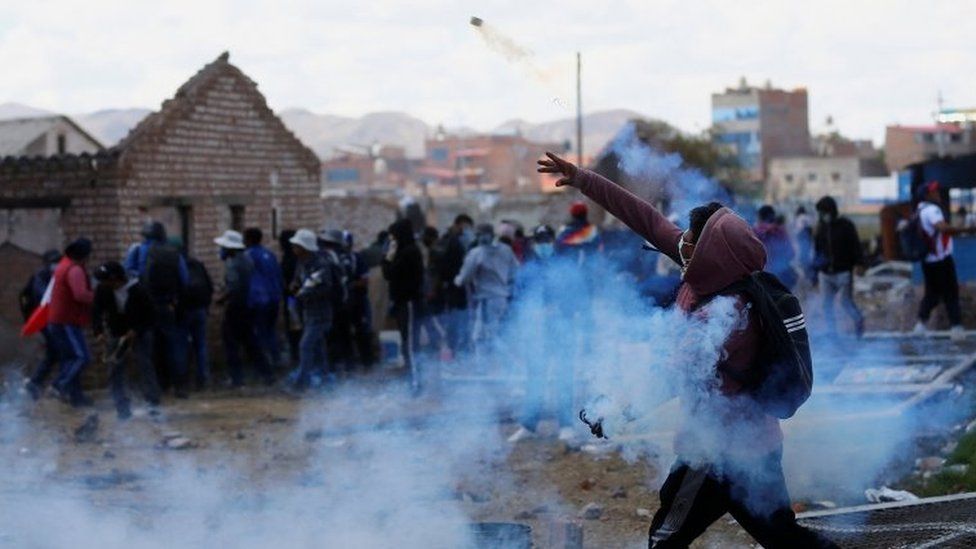 At least 17 people have died in clashes between supporters of the former president and security forces in south-eastern Peru, officials say.
Dozens more were injured on Monday in the city of Juliaca in some of the worst violence since ex-President Pedro Castillo was arrested last month for trying to dissolve Congress.
His supporters have been protesting and blockading roads for weeks.
They say new President Dina Boluarte must go, and want snap elections.
Prime Minister Alberto Otárola denounced the clashes in Juliaca, describing them as an organised attack on police.
He said that thousands of people had tried to overrun the city's airport and a local police station.
Meanwhile, one protester told the AFP news agency: "The police are shooting at us."
"We ask Dina to resign. Accept the fact that people do not want you," the protester added.
Juliaca is located in the Puno region, which has been a hotbed of anti-government demonstrations.
The South American nation has been through years of political turmoil, with the latest crisis coming to a head when Mr Castillo announced he was dissolving Congress and introducing a state of emergency in December.
But Congress proceeded to vote overwhelmingly to impeach him.
Mr Castillo, who is currently in detention, is being investigated on charges of rebellion and conspiracy. He denies all the accusations, insisting that he is still the country's legitimate president.