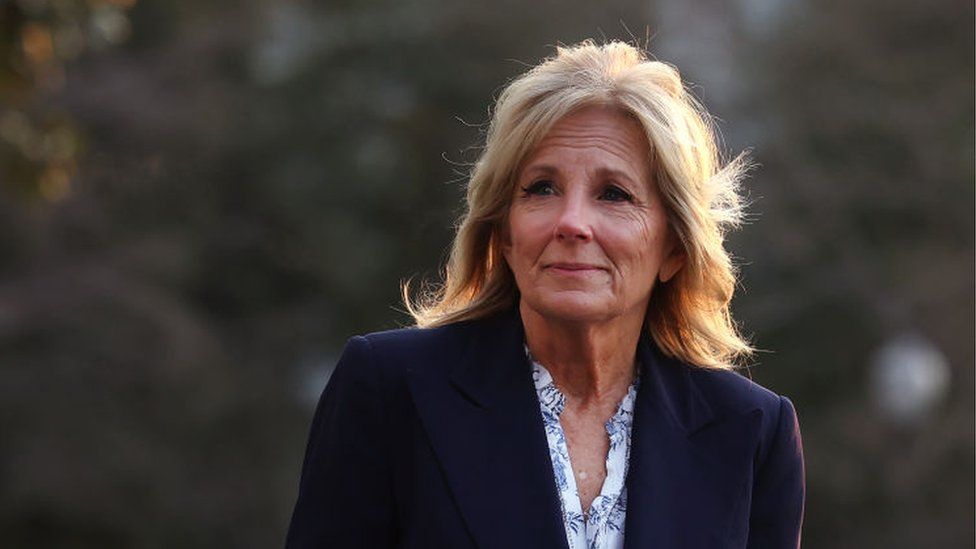 US First Lady Jill Biden has undergone surgery to remove two cancerous skin lesions, the president's doctor has said.
Both were consistent with basal cell carcinoma, the most common form of skin cancer, Dr Kevin O'Connor wrote in a memo on Wednesday.
All cancerous tissue was fully removed from the lesions in a procedure known as Mohs surgery, it said.
Mrs Biden is "in good spirits and is feeling well", Dr O'Connor said.
Following a routine skin cancer screening earlier this month, doctors recommended that a small lesion above Mrs Biden's right eye should be excised out of "an abundance of caution".
The Wednesday morning procedure confirmed the lesion was basal cell carcinoma (BCC).
Diagnosed in 3.6 million Americans every year, it is the the most frequently occurring form of all cancers, according to the Skin Cancer Foundation. BCCs are slow-growing, curable and cause minimal damage if treated early.
A second lesion, on the first lady's left eyelid, and a third lesion, on the left side of her chest, were also excised. The latter had an appearance consistent with potential BCC.
Mohs surgery involves surgeons cutting away and analysing thin layers of skin until no signs of cancer are found. Patients are typically discharged on the same day.
Mrs Biden is said to be experiencing some facial swelling and bruising, but is expected back at the White House later on Wednesday.
President Joe Biden accompanied his wife to the Walter Reed National Military Medical Center in Maryland, some 15 miles from the White House, for the procedure, which came hours after their return to Washington from a trilateral summit in Mexico City.
Mr Biden has had several non-melanoma skin cancers removed with Mohs surgery in the past, before he became president. In a 2021 summary of his health, Dr O'Connor wrote that the president's lesions had been excised and "there are no areas suspicious for skin cancer at this time".