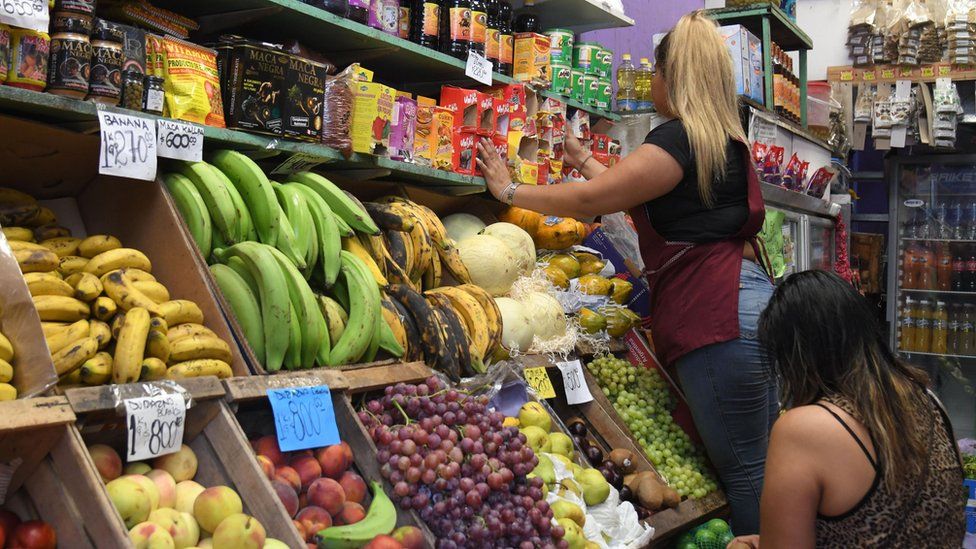 Argentina saw prices almost double last year as the country's annual inflation rate hit its highest level in more than 30 years.
Official figures show consumer prices jumped by 94.8% in the 12 months to the end of December.
It marks the South American country's fastest pace of inflation since 1991.
Last year Argentina's central bank raised its main rate of interest to 75% as it tries to rein in the soaring cost of living.
On a monthly basis, Argentina's monthly inflation rate stood at 5.1% in December.
The monthly figure marks a small victory for the government of President Alberto Fernandez as the country's official inflation rate remains below the peak of 7.4% in July.
Policy makers and politicians may also take some comfort from the annual rate not hitting three figures for 2022.
Price rises in December were led by cost increasing in areas including restaurants, hotels, alcoholic drinks and tobacco, which were up by more than 7%.
Like most countries around the world, Argentina has seen prices rise sharply as the cost of commodities including energy has gone up.
Soaring prices have largely been attributed to a bout of central bank money-printing, as well as the war in Ukraine.
In December the International Monetary Fund (IMF) approved another $6bn of bailout money for South America's second largest economy.
It was the latest payout for Argentina in a 30-month programme that is expected to reach a total of $44bn.
Last year the troubled country had three economy ministers in the space of just four weeks.
Sergio Massa has been in the job since August and has implemented tough policies in an attempt curb rampant inflation.