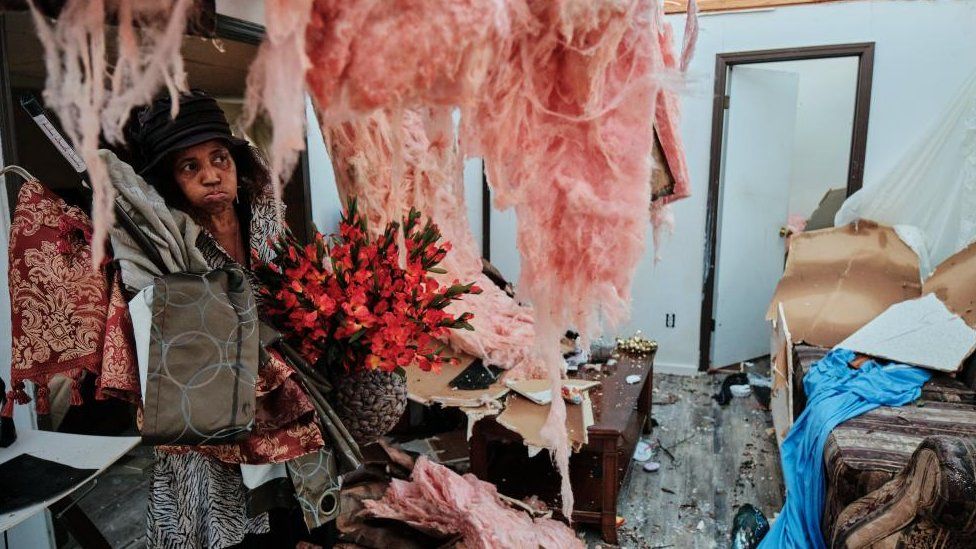 At least six people have been killed by tornadoes in Alabama, according to local officials, who say they are "still searching for bodies".
Over 35 tornadoes were reported by the National Weather Services (NWS) across the southern US on Thursday, putting more than 30 million people at risk.
A "large and extremely dangerous tornado" caused widespread damage to Selma, Alabama, the NWS said.
The storms have caused blackouts for thousands of people in four states.
More than 147,000 residents in Alabama, Georgia, Tennessee and the Carolinas were without power by Thursday evening, according to Poweroutages.us.
Foul weather is forecast to continue overnight.
All of the reported tornado deaths in Alabama occurred in Autauga County, located between the cities of Montgomery and Selma in the centre of the state.
"We have multiple deaths and are still searching for bodies," Autauga County Coroner Buster Barber told CNN.
At 12:53CST (18:53GMT), the NWS office in Birmingham warned that a "tornado emergency" had been issued for Autauga County.
The agency posted on Twitter: "THIS IS A LIFE THREATENING SITUATION. TAKE SHELTER IMMEDIATELY!!"
Radar tracking the storm spotted debris that was picked up and blown 20,000ft (6,100m) into the air, according to the NWS.
The governors of Alabama and Georgia have each signed state of emergency declarations.
High winds have also caused major structural damage to buildings in Georgia and Mississippi, video posted online shows.
In Selma, famous for its role in the US Civil Rights Movement, a curfew would is in affect until dawn. There were no deaths from the storm reported in Selma, but there were several injuries.
The temperatures in Alabama are forecast to drop to below freezing in the coming days, with a chance of snow possible on Friday afternoon.
Meanwhile on the opposite side of the country, California has been pummelled by a series of severe storms that have caused flooding, mudslides and power outages. At least 18 people have died there due to the severe weather.
After a brief respite on Thursday, officials in California say that more storms are forecast to pick up on Friday night and over the weekend.