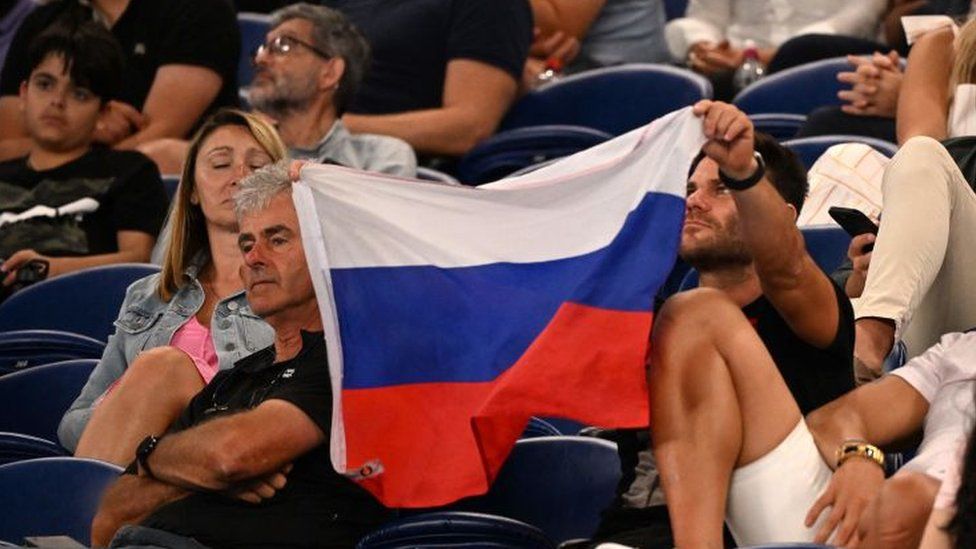 Russian and Belarusian flags have been banned from the Australian Open tennis tournament after a courtside incident.
Spectators were initially permitted to bring the flags into Melbourne Park on the condition they did not cause "disruption".
But the organisers reversed that decision on Tuesday, after fans displayed a Russian flag during a match between Ukraine's Kateryna Baindl and Russian Kamilla Rakhimova.
The ban is effective immediately.
"We will continue to work with the players and our fans to ensure the best possible environment to enjoy the tennis," Tennis Australia said in a statement.
Ukrainian fans say they called police and security to the first-round match on Monday, claiming Russian supporters were "taunting" Baindl.
"This is profoundly unsafe, the war is ongoing," one fan told local newspaper The Age. "It's a small court, the guys were extremely close to the players, so there was an element of what I felt was intimidation."
But one of the Russian men involved told The Age his group had simply been cheering their countrywoman on.
He said: "People can view that as being obnoxious but we were just being your normal supporters. There was no ridiculing or disrespect."
Ukraine's ambassador to Australia and New Zealand had earlier called on Tennis Australia to take action.
Russian and Belarusian athletes have not been able to play under their countries' flags in several sports, including tennis, since the invasion of Ukraine began in February last year.
While players from the two countries are competing under a neutral white flag during the Australian Open, they were banned from playing at Wimbledon altogether in 2022.
Organisers were subsequently fined and the tournament was stripped of its ranking points by the Association of Tennis Professionals and Women's Tennis Association. The WTA said equal opportunities for players to compete as individuals had to be protected.
The Victorian state government on Tuesday said Tennis Australia had made the right decision.
"Russia's invasion of Ukraine is abhorrent," acting premier Jancinta Allan said. "It breaches international human rights obligations. It's been enabled and supported by Belarus.
"This sends a very, very clear message that human rights are important, whether it's in sport, or more broadly in our community."
The ban comes after Ukrainian tennis player Marta Kostyuk said she would not shake hands with opponents from Russia and Belarus who she believes have not done enough to condemn the invasion.