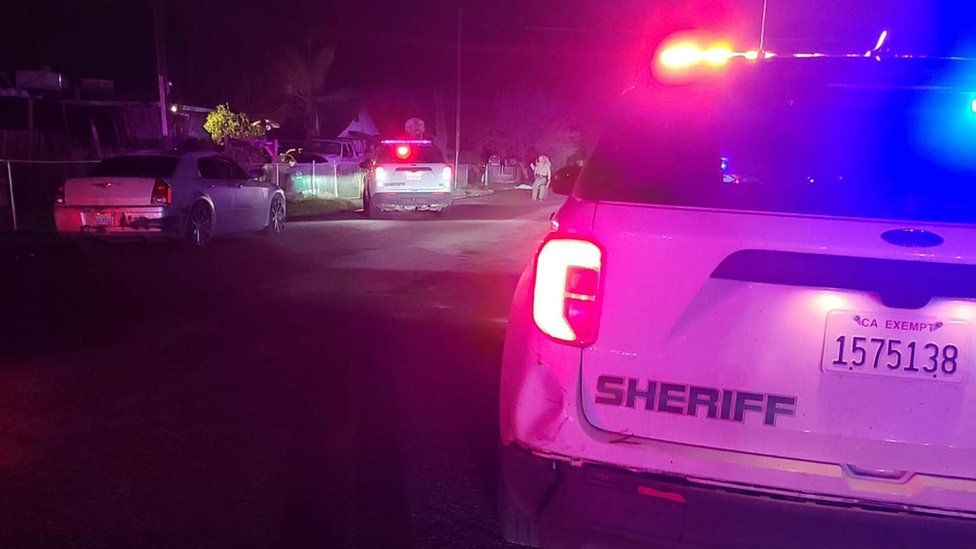 Six people, including a 17-year-old mother and her six month old baby – have been killed in a shooting at a home in central California.
Police were called to the Goshen property at about 03:30 local time on Monday where they found two bodies on the street and others inside the home.
It was described as a "horrific massacre" by the sheriff, who said police are looking for the suspects.
Police believe the family was involved in gangs and was deliberately targeted.
Just last week, officers raided the same home for narcotics, Tulare County Sheriff Mike Boudreaux said in a news conference on Monday.
He told reporters one victim was still alive when police arrived. They were taken to hospital, where they later died.
Investigators are searching for at least two suspects, the sheriff confirmed.
"I do have more information but I'm not at liberty to discuss [it] at this point," Mr Boudreaux added.
He said that some people had survived the shooting in the small town, which is just over a three-and-a-half-hour drive north of Los Angeles.
"The reason for them surviving this horrific massacre – for lack of a better term – we just don't have all that information this morning," Mr Boudreaux said.