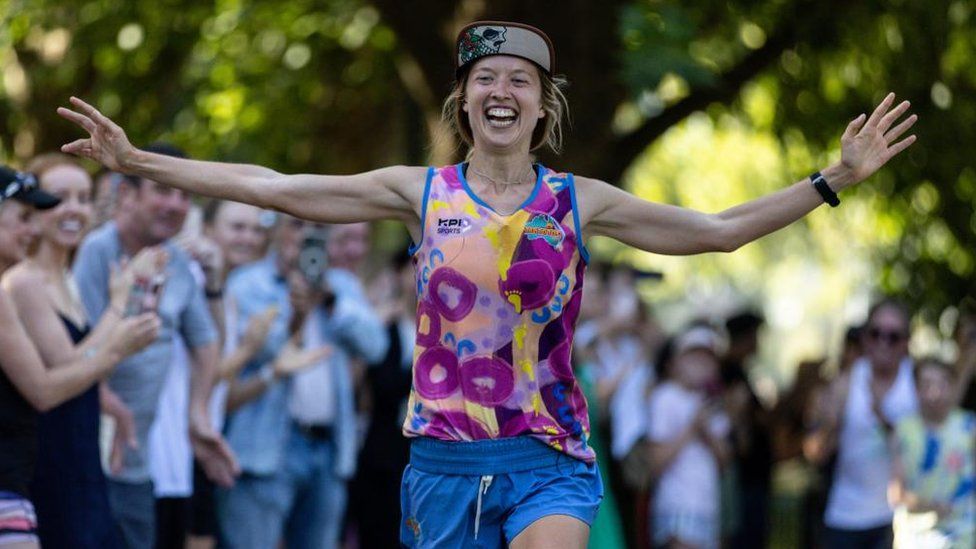 Five months after setting out from the tip of Australia, marathon runner Erchana Murray-Bartlett has reached the country's southern edge. The 32-year-old on Monday finished her 6,300km (3,900 miles) journey – a marathon every day for 150 days.
Ms Murray-Bartlett's effort sets a new world record for the most consecutive daily marathons by a woman. And she has raised over A$100,000 ($70,000) for conservation charity the Wilderness Society.
Ms Murray-Bartlett has been running professionally for years, but after missing out on qualifying for the Tokyo Olympics, she set her sights on another life-long dream.
She was going to run the entire length of Australia, and she was going to break the Guinness World Record for the most consecutive daily marathons by a woman – held by Briton Kate Jayden, who last year completed 106 in as many days.
Ms Murray-Bartlett set out on the run to raise awareness of the extinction crisis facing Australian animals and plants. Australia is home to some of the richest biodiversity in the world – much of which is unique to the continent – but it is among the worst in the world for biodiversity loss.
It was tough going for Ms Murray-Bartlett from the beginning – she had three injuries in the first three weeks.
But her body learned to cope as she wound her way along Australia's famous coastline, through rainforests, and down both dirt roads and highways. She sometimes ran in torrential rain, other times in heat upwards of 35C (95F).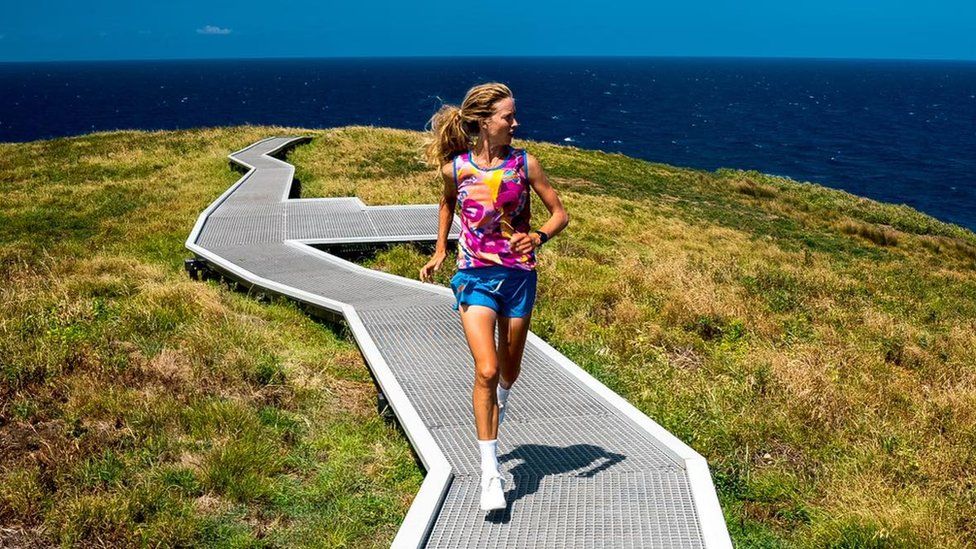 Despite consuming between 5,000 and 6,000 calories a day – about three times the average woman's needs – the nutritionist shed weight. She suffered sunburn, blisters and aches, and jokes that she's now been bitten by every insect under the sun – ants, mosquitos, spiders and more.
She weathered constant brain fog and a pervasive body fatigue she says got harder and harder to shake each morning. By the time she ran into Melbourne, her feet had swollen an entire shoe size and she'd burned through ten pairs of runners. "There's definitely been some very tough days… you're out there all on your own and you can't see the finish line and you think why am I doing this? And during those moments, I think to myself, why," she told the BBC on Tuesday.
"Even though sometimes you are covered in sweat and flies and everything ached, I thought: 'No, I can go one more km' or, 'no I can go 500 more metres'. If you keep stringing together little tiny goals… you can make it." She crossed the finish line on Monday evening to news she had raised almost double her original fundraising target.
Speaking to local media, Ms Murray-Bartlett said she had been overwhelmed by the support – people donated in droves and some ran parts of the journey with her. "It's overwhelming, I'm so stoked," she said. "The turnout has been phenomenal and the fact that everyone was running with me, it made it even more special."