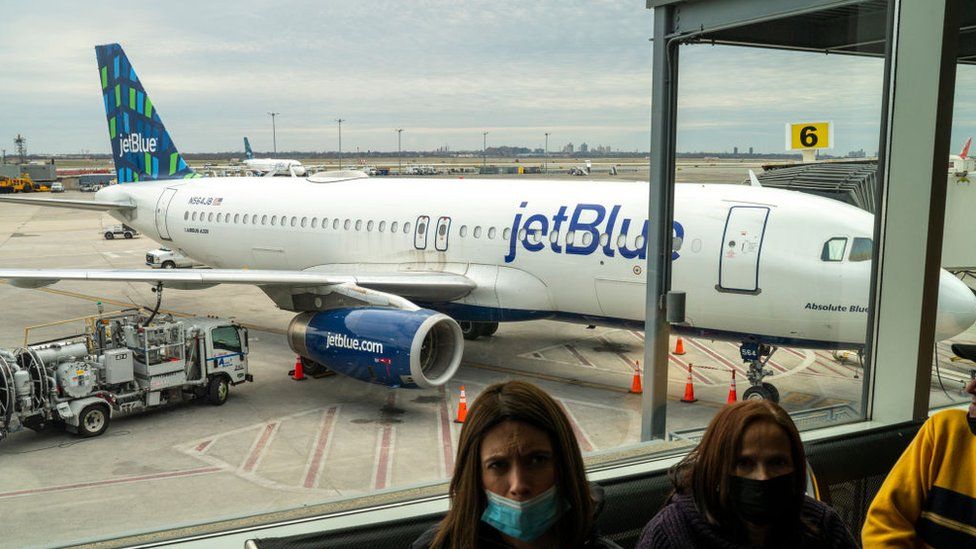 Two JetBlue aircraft bumped into one another on taxiway of a New York airport on Wednesday, the second unusual incident there in recent days.
An aircraft bound for Puerto Rico struck the tail of a parked plane as it was departing the gate, officials said.
No injuries were reported and passengers boarded a different aircraft after returning to the gate.
In a statement, JetBlue said flight 1603 had come "into light contact with a parked unoccupied aircraft".
"Safety is JetBlue's first priority, and both aircraft involved will be taken out of service for inspection and the incident will be investigated," it said.
Federal Aviation Administration (FAA) officials have launched an investigation into the incident. It comes just days after two planes full of passengers almost collided at the airport.
One plane was about to take off while the other was crossing the same runway. A collision was narrowly averted when an air traffic controller noticed the two.
"Delta 1943, cancel take-off clearance! Delta 1943, cancel take-off clearance!" the controller was captured saying in an audio recording made by LiveATC, a website that posts flight communications.
The planes were around 1,000ft (300m) away from one another when the Delta aircraft stopped.
In a statement, Delta Air Lines said it would co-operate with an investigation into the incident. American Airlines, which operated the other plane, did not release a statement and referred questions to the FAA.