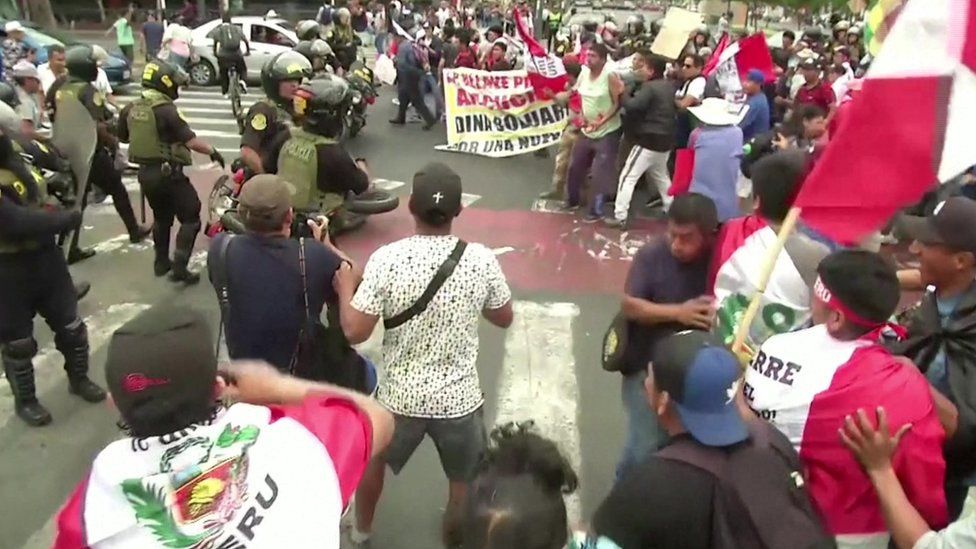 At least three more people are reported to have died amid protests against Peru's President Dina Boluarte.
Dozens of lives have been lost during weeks of demonstrations after former leader Pedro Castillo was ousted.
Police used tear gas to disperse crowds in the capital Lima, where thousands of protesters from rural areas have spent days converging.
A woman died in the southern town of Macusani, where a police station is reported to have been set on fire.
The 35-year-old woman was admitted to hospital without any vital signs, according to emergency services.
Separately, Peru's human rights watchdog reported two further deaths as a result of blockades in the northern La Libertad region.
In a tweet, it said a 51-year-old woman had died, and that "a teenager lost her baby".
The deaths come ahead of a large-scale protest planned for Thursday afternoon in the capital.
Demonstrators want Ms Boluarte to step aside and call fresh elections, and for Mr Castillo, her left-wing predecessor, to be released from custody.
The governors of the southern Puno, Cusco and Apurimac regions have also called for the president's resignation.
The country has been through years of political turmoil, which came to a head when Mr Castillo was arrested last month for trying to dissolve Congress.
He is being investigated on charges of rebellion and conspiracy. He denies all the accusations, insisting that he is still the country's legitimate president.
Ms Boluarte has resisted calls to step down and issued a call earlier this week to Peruvians to ensure their protests were peaceful.