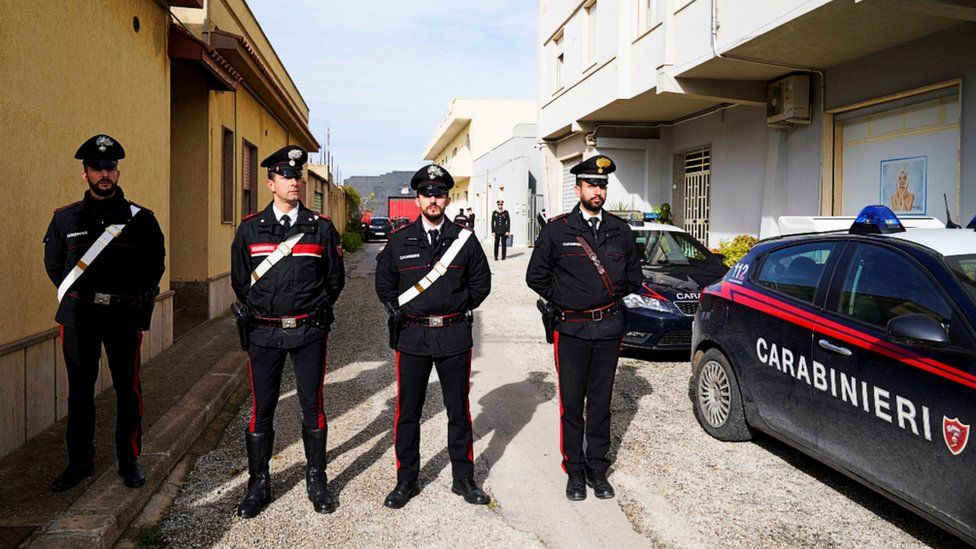 A second hideout used by Italy's most wanted mobster Matteo Messina Denaro has been discovered at the back of a wardrobe with a sliding base, Italian police have said.
The newly-discovered armoured bunker is in a house about 300m from the Mafia boss's first hideout in the Sicilian town of Campobello di Mazara.
He was arrested on Tuesday at a private clinic in Sicily's capital, Palermo.
Police had been hunting Messina Denaro for three decades.
Messina Denaro was undergoing treatment for cancer at the clinic, and had made the appointment under a false name.
The alias, Andrea Bonafede, aroused the suspicion of police when they realised it was the name of deceased Mafia boss Leonardo Bonafede's nephew.
Phone-mapping showed the real Bonafede's mobile was not in Palermo in 2020 and 2021 when a man using the name had surgery in the city.
During his time at the top of the Cosa Nostra organised crime syndicate, Messina Denaro oversaw racketeering, illegal waste dumping, money-laundering and drug-trafficking.
He was convicted in absentia in 2002 of a string of murders. Details of how Messina Denaro lived before his arrest have been starting to emerge.
He was living in an unassuming house in Campobello di Mazara, 116km (72 miles) from Palermo and just 8km from his birthplace of Castelvetrano.
A neighbour told Italian TV he frequently saw the man and that they would greet one another regularly.
Police found no weapons in the first hideout, according to initial reports, but did discover luxury perfumes, expensive furniture and designer clothes.