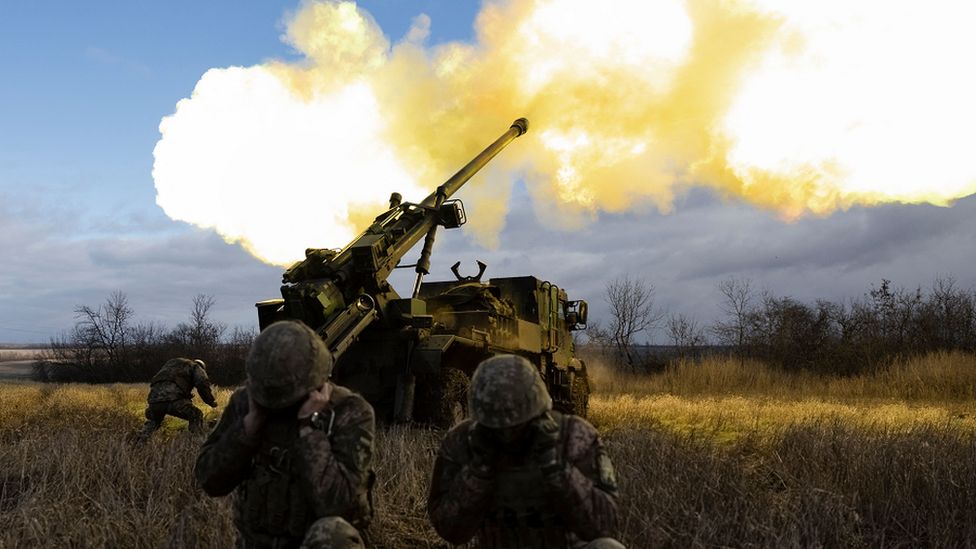 More countries have answered President Volodymyr Zelensky's call to send further arms to Ukraine. The US says a package worth $2.5bn will be sent, including armoured vehicles and air defence systems.
Several European nations promised their own new packages – including hundreds of missiles pledged to Kyiv by the UK. The announcements come ahead of a crunch meeting scheduled in Germany on Friday, in which 50 countries are set to co-ordinate arms supplies.
A meeting on Thursday saw representatives from 11 nations gather at an army base in Estonia to discuss a range of new packages to help Ukraine recapture territory and fend off any further Russian advances. Nine countries which includes the UK, Poland, Latvia, Lithuania, Denmark, Czech Republic, Estonia, the Netherlands and Slovakia – promised more support.
The packages announced in a joint statement include:
UK – 600 Brimstone missiles
Denmark – 19 French-made Caesar self-propelled howitzers
Estonia – howitzers, ammunition, support vehicles and anti-tank grenade launchers
Latvia – Stinger air-defence systems, two helicopters, and drones
Lithuania – anti-aircraft guns and two helicopters
Poland – S-60 anti-aircraft guns with 70,000 pieces of ammunition
Czech Republic – produce further large calibre ammunition, howitzers and APCs
The Netherlands will announce its package of support on Friday. The announcement of fresh US support arrived later on Thursday. Despite Ukrainian hopes, it did not contain an offer of tanks. But the Pentagon did promise Kyiv an extra 59 Bradley armoured vehicles, 90 Stryker personnel carriers and Avenger air defence systems, among other large and small munitions.
It said recent air attacks demonstrated "the devastating impact of Russia's brutal war in Ukraine" – but said the newly-pledged arms would help to fend these off. A statement added that the US had now committed more than $26.7bn in security assistance to Ukraine since Moscow's full-scale invasion on 24 February 2022.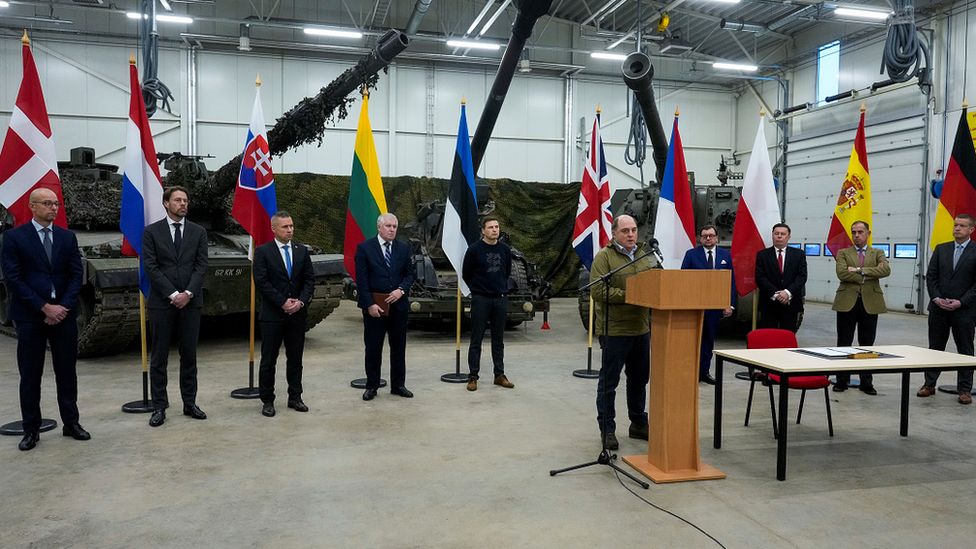 A meeting of the Ukraine Defence Group, made up of key allies including the US, will convene at Ramstein air base in Germany on Friday to discuss further military support. President Zelensky said he expected "strong decisions" on further arms exports to be made at that meeting, including a "powerful military support package" from the US.
The talks are likely to focus on the question of whether to send heavy tanks, and crucially who will supply them. Despite the billions of dollars pledged in new weapons by Western allies on Thursday, this question remains unanswered.
Ukraine is asking for German-made Leopard tanks to be sent to the front line. German Chancellor Olaf Scholz is coming under increasing international and domestic pressure to supply them, or at least approve their delivery by third countries.
Poland and Finland have both promised to send their Leopards – but need Germany's permission, as the manufacturing country, to do so. Poland's Prime Minister, Mateusz Morawiecki, said he was "moderately pessimistic" about Germany giving permission to re-export Leopards to Ukraine. And President Zelensky has also addressed Germany's reluctance. "Now we are waiting for a decision from one European capital that will activate the prepared chains of co-operation on tanks," he said on Thursday evening.
A government source in Berlin told Reuters it is yet to receive a request from any country to re-export their tanks.