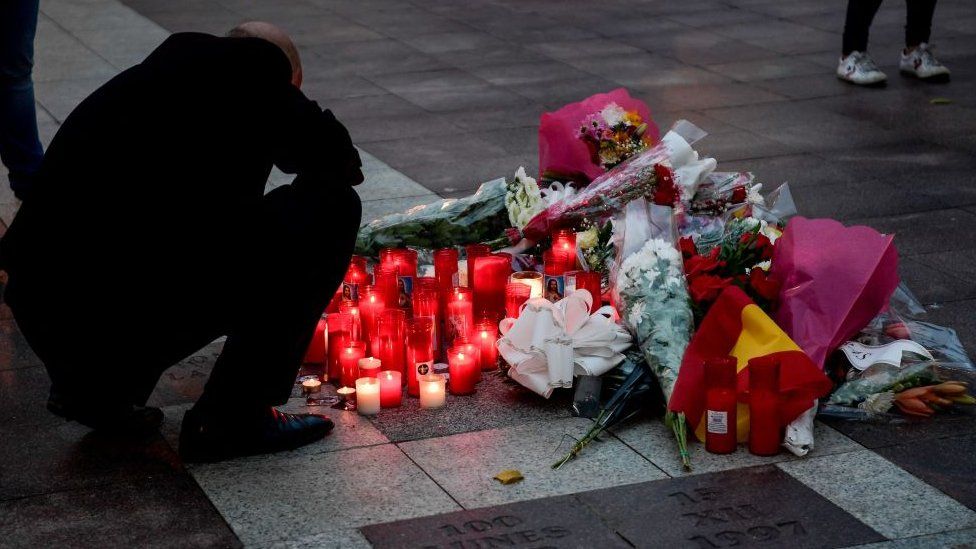 A man who allegedly killed a church caretaker and injured a priest in southern Spain had been facing deportation, the authorities say.
The incident happened on Wednesday when a man armed with a machete entered two churches in the city of Algeciras. A 25-year-old Moroccan man was disarmed and arrested soon after.
The suspect, who is thought to have acted alone, was expected to be sent to the capital Madrid and appear before the High Court on terrorism charges.
The authorities have said the suspect was due to be deported in June as he was in the country illegally. He had no criminal or terrorism-related convictions either in Spain or other allied countries and was not under surveillance.
However, the authorities in Gibraltar said he had been deported from the territory in 2019 for immigration offences.
Algeciras acts as a primary transit hub for migrants from Morocco across the Strait of Gibraltar.
Hundreds of people observed a minute's silence outside the Nuestra Senora de La Palma church where the verger, Diego Valencia, was killed. Many broke down in tears and mourners laid flowers and lit candles in his memory.
According to the interior ministry, the victim managed to get outside the church but was attacked again and fatally wounded.
"He was a very dear person in Algeciras," one local said about Mr Valencia.
The injured priest of the parish church of San Isidro, Antonio Rodriguez, is said to be in a stable condition after being operated on.
"I send my deepest condolences to the relatives of the verger who died in this terrible attack," Prime Minister Pedro Sanchez said on Twitter.
The local Muslim community in Algeciras, has condemned it as a "brutal and vicious attack".