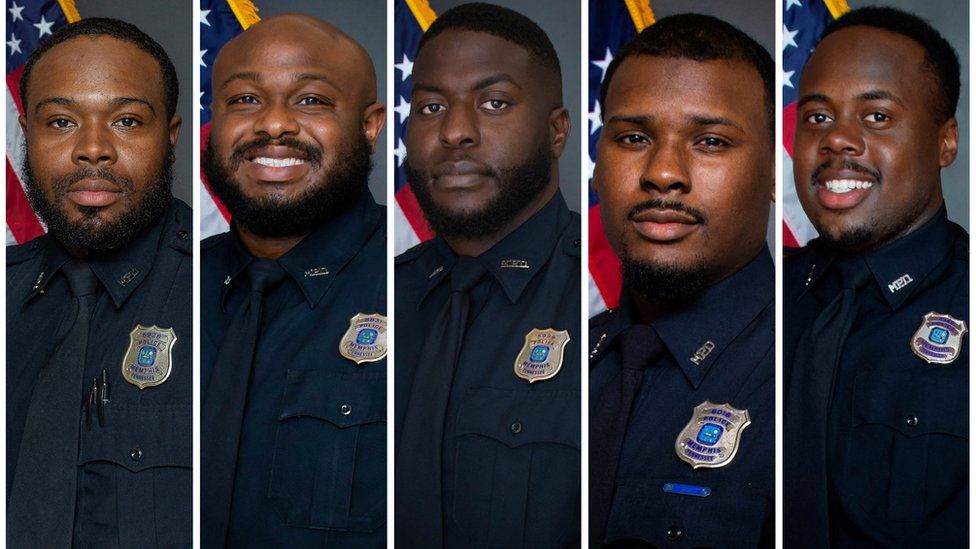 President Joe Biden is urging protests in Tennessee to remain peaceful as officials plan to release video of an arrest that led to a motorist's death.
Five Memphis police officers have been fired and are facing murder charges after Tyre Nichols, 29, died three days after a traffic stop on 7 January.
Bodycam footage of the encounter is expected to be released on Friday evening local time. Lawyers for the Nichols family said it will show him being severely beaten.
"I'm sickened by what I saw," Tennessee Bureau of Investigation director David Rausch said on Thursday after reviewing the footage. He called the officers' actions "absolutely appalling".
Local media report that Memphis is on edge and police have stepped up patrols in the city centre as they prepare for possible demonstrations.
Mr Nichols, a black man, was stopped by five police officers, who are also black, on his way home after taking photos of a sunset at a local park, an attorney for the family said. Officials say he was suspected of reckless driving.
The lawyer said after reviewing the footage that it shows Mr Nichols being pepper-sprayed, tasered, restrained and kicked. All five of the officers face charges of second-degree murder, aggravated assault, aggravated kidnapping, official misconduct and official oppression.
President Biden released a statement on Thursday appealing for calm as authorities prepare to release the footage.
"I join Tyre's family in calling for peaceful protest," he said. "Outrage is understandable, but violence is never acceptable."
The city's police chief had earlier also urged people to remain calm once the clip is made public. "This is a failing of basic humanity toward another individual," said Cerelyn Davis, who is the first black woman in that role in Memphis.
The five officers, all of whom joined the Memphis Police Department in the last six years, were fired last week.
Tadarrius Bean, Demetrius Haley, Desmond Mills Jr, Emmitt Martin III and Justin Smith were booked into jail on Thursday.
The Nichols family and their legal team privately reviewed the video footage of the arrest earlier this week.
"He was a human piñata," lawyer Antonio Romanucci said of its contents. "It was an unadulterated, unabashed, non-stop beating of this young boy for three minutes."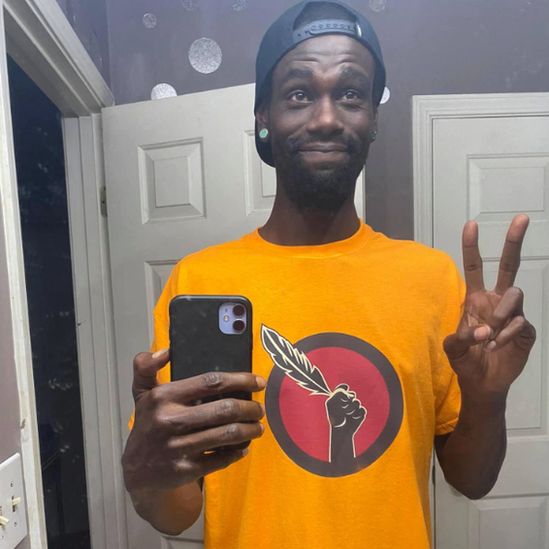 According to authorities, a first confrontation occurred as Mr Nichols attempted to flee on foot when officers approached his car. They said a second confrontation happened when officers tried to arrest him. Mr Nichols later complained of shortness of breath and was taken to hospital, police said, where he was listed in a critical condition.
Officials said Mr Nichols "succumbed to his injuries" on 10 January, but provided no further details. An official cause of death has not yet been disclosed. His family say he will be remembered as a "good kid" who enjoyed photography and skateboarding. The father-of-one, who worked at the parcel delivery company FedEx, had Crohn's disease and suffered severe weight loss, relatives say.
Reverend Al Sharpton, a US civil rights leader, said the alleged crime was particularly painful because of the officers' race. "We fought to put blacks on the police force," he said. "For them to act in such a brutal way is more egregious than I can tell you." "I do not believe these five black police officers would have done this had he been a young white man," he added.
The FBI and the Department of Justice have opened a civil rights investigation into Mr Nichols' death. The officers involved are members of a special team known as Scorpion – short for "Street Crimes Operation to Restore Peace in Our Neighborhoods".
The unit, which was created to police high-crime areas, is now under review, along with all of the city's specialised units, according to the city's police chief.