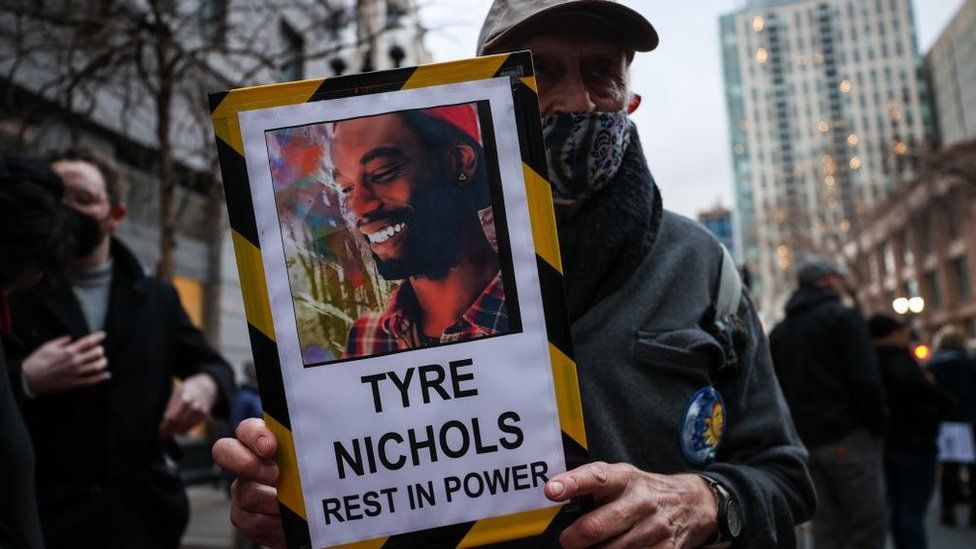 Three Memphis fire department workers have been fired amid an investigation into a motorist's death that has shocked the US. Officials said two paramedics and a driver who responded to the scene did not provide Mr Nichols adequate care.
He was punched, kicked and hit with a baton after being pulled over for an alleged traffic violation. Five policemen have been fired and charged with murder. It emerged on Monday two others have been suspended.
Memphis officials said the three sacked fire department workers – Robert Long, JaMichael Sandridge and Lt Michelle Whitaker – had "failed to conduct an adequate patient assessment of Mr Nichols".
All three violated numerous department policies, Memphis Fire Department Chief Gina Sweat said, without providing further details. "Their actions or inactions on the scene that night do not meet the expectations of the Memphis Fire Department," she said.
Body camera video and other footage were released publicly on Friday and they show Mr Nichols, 29, was beaten by police officers on 7 January after he was pulled over. Mr Long and Mr Sandridge responded to a call about a person being pepper-sprayed and arrived at 20:41 to find Mr Nichols handcuffed on the ground propped up against a police vehicle, officials said.
They requested an ambulance, according to the fire department. The ambulance was dispatched at 20:46, arrived on the scene at 20:55 and Mr Nichols was admitted to hospital at 21:08, according to the press release. The firings come after Memphis officials said they had suspended Preston Hemphill, 26, one of the police officers who initially stopped Mr Nichols for an alleged traffic violation. A lawyer for Mr Hemphill said the officer was co-operating with the investigation.
The Memphis Police Department said later on Monday that a second officer had been suspended in connection with Mr Nichols' death, though it did not name this officer.
Lee Gerald, a lawyer for Mr Hemphill, said his client was on the scene at the initial stop of Mr Nichols, and that the first video of the encounter released to the public came from Mr Hemphill's body camera. "As per departmental regulations officer Hemphill activated his bodycam," Mr Gerald said in a statement. "He was never present at the second scene."
The first video of the incident shows the initial traffic stop when Mr Nichols was pulled over by police. Officers can be heard shouting profanities and ordering Mr Nichols out of his car. The officers then force him to the ground before he breaks free. The subsequent videos show officers catching up with Mr Nichols in a residential area before pinning him down to the ground and beating him.
According to attorneys for Mr Nichols' family, Mr Hemphill is the officer shown on video "violently pulling Nichols from his car while hitting him on the ground with a Taser", they wrote in a statement. After Mr Nichols fled the scene of the traffic stop, the attorneys allege, Mr Hemphill could be heard saying: "I hope they stomp his ass."
Mr Hemphill is white, while the five former officers charged with second-degree murder in the case are black. Mr Nichols was also black. Memphis Police Department said they would provide more details on Mr Hemphill's alleged role "once information is available".
Mr Nichols' death has once again highlighted issues surrounding police brutality in the US, reigniting calls in Congress for law enforcement reform. In a statement on Sunday, Congressional Black Caucus chair and Democratic House representative Steven Horsford asked for a meeting with President Joe Biden about the matter.
Mr Nichols' parents have been invited by the caucus to attend President Biden's State of the Union address on 7 February.