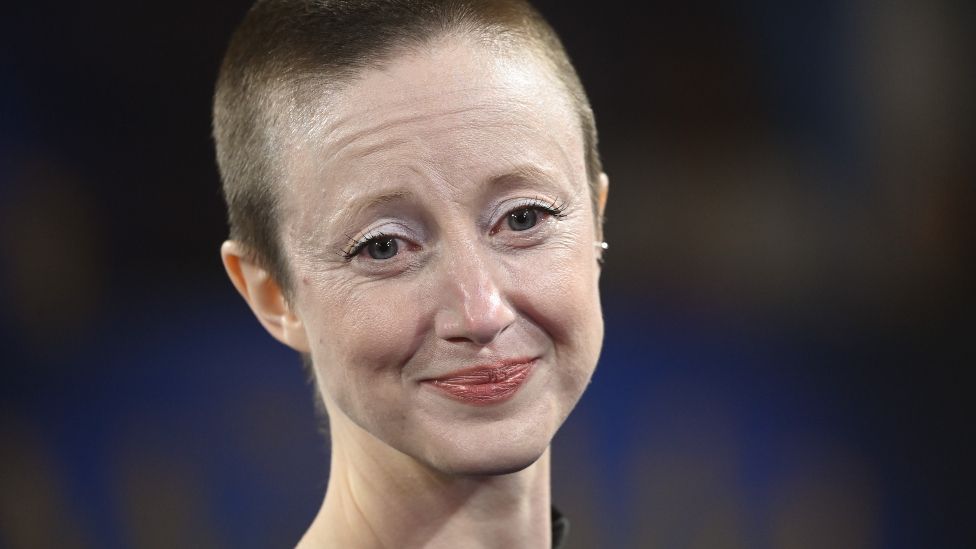 Oscars organisers have decided British actress Andrea Riseborough can keep her nomination, but said tactics used in her film's campaign "caused concern".
Riseborough was an outsider for a nomination but was championed by stars like Gwyneth Paltrow, Courteney Cox, Jennifer Aniston and Edward Norton.
The Oscars Academy has now reviewed whether the campaign broke its rules. It concluded that the issues did "not rise to the level that the film's nomination should be rescinded". Academy chief executive Bill Kramer added: "However, we did discover social media and outreach campaigning tactics that caused concern. These tactics are being addressed with the responsible parties directly."
The Academy has not named those "responsible parties". Riseborough has not been accused of wrongdoing.
She was nominated last week for best actress for To Leslie, a low-budget film in which she plays an alcoholic mother from Texas who tries to make ends meet after squandering her lottery winnings. She was not previously on the awards season radar but enjoyed a late surge of support from high-profile fans who voiced their admiration on social media and in some cases hosted screenings.
The question of whether the campaign broke Academy guidelines is believed to have come down to a few specific posts that not only championed Riseborough but also made reference to her competitors – which is forbidden. One since-deleted Instagram post that has been under the spotlight was published by the official To Leslie account.
It quoted Richard Roeper of the Chicago Sun-Times, who wrote: "As much as I admired [Cate] Blanchett's work in Tár, my favourite performance by a woman this year was delivered by the chameleonlike Andrea Riseborough."
While there was no wrongdoing on the critic's part for expressing his opinion, it's possible that the To Leslie campaign could have got in trouble for choosing a quote that contrasted Riseborough with Blanchett.
Similarly, actress Frances Fisher, who has appeared in Titanic and Gone In 60 Seconds, lobbied for Riseborough while implying Blanchett, Michelle Yeoh, Danielle Deadwyler and Viola Davis did not need more support because they were already "a lock for their outstanding work".
Blanchett and Yeoh did end up being nominated for best actress, along with Ana de Armas and Michelle Williams. But Deadwyler and Davis – who are both black – missed out.
Chinonye Chukwu, who wrote and directed Deadwyler's film Till, later accused Hollywood and wider society of "unabashed misogyny towards Black women".
Tuesday's statement from the Academy of Motion Picture Arts and Sciences added: "The purpose of the Academy's campaign regulations is to ensure a fair and ethical awards process – these are core values of the Academy.
"Given this review, it is apparent that components of the regulations must be clarified to help create a better framework for respectful, inclusive, and unbiased campaigning.
"These changes will be made after this awards cycle and will be shared with our membership. The Academy strives to create an environment where votes are based solely on the artistic and technical merits of the eligible films and achievements."
Riseborough is one of two British stars to be nominated for this year's Oscars, along with Bill Nighy. The winners will be announced in Hollywood on 12 March.