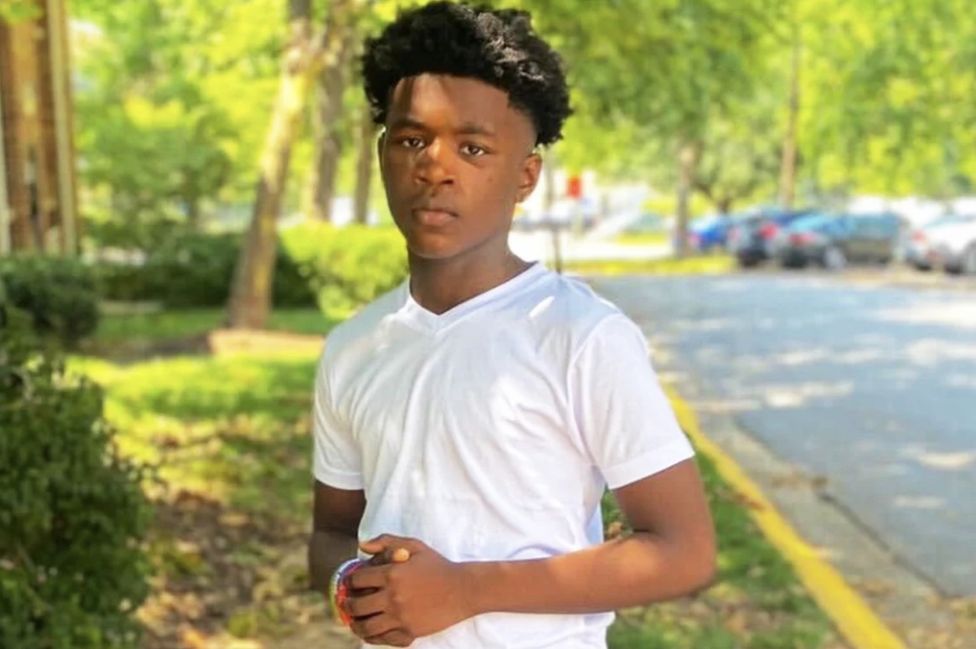 A Washington DC householder has been charged with second-degree murder in the shooting of a 13-year-old child who he suspected of breaking into cars.
Jason Michael Lewis, 41, turned himself in to Washington police on Tuesday. He is accused of shooting the teenager at around 04:00 on 7 January.
According to arrest documents, as he was being shot, Karon Blake shouted, "I am sorry, please don't" and "I'm a kid, I'm a kid."
Mr Lewis is black, as was the teenager.
He is an employee with the city's Department of Parks and Recreation. The Washington Post reports that he has been placed on leave from his $75,000 per year job.
The shooting took place in Brookland, a neighbourhood in the north-east of the city that has undergone rapid gentrification in recent years, like other parts of the US capital.
According to an affidavit, Mr Lewis left his home with his legally owned gun after saying he heard noises and fearing that someone was trying to get inside his home.
Mr Lewis then encountered a group of young people who were apparently trying to break into cars, Washington Metropolis Police Chief Robert Contee III said in a news conference.
"Hey, what are y'all doing?" he shouted at them, according to the affidavit.
He fired once with a Smith & Wesson .40-calibre handgun at the fleeing getaway vehicle, investigators say.
The affidavit adds that CCTV cameras on Mr Lewis' property recorded Karon running as Mr Lewis continued firing.
After Mr Lewis opened fire, the boy collapsed having shouted: "I'm a kid, I'm a kid."
Mr Lewis told police that Karon ran towards him after he fired at the getaway vehicle. A witness told investigators that he "charged" at Mr Lewis.
Chief Contee said Karon could have been running towards the getaway vehicle and perhaps did not realise that Mr Lewis was the person who had just opened fire.
Mr Lewis called police to report that he had "shot a juvenile male who ran toward him".
Police body camera footage shows that he was on the ground "performing chest compressions" in an effort to save the boy's life when officers arrived.
Karon – who attended the nearby Brookland Middle School, was pronounced dead in hospital from multiple gunshot wounds.
A lawyer for Mr Lewis said his client was "distraught" and "maintains his innocence".
"While this is certainly a tragedy, once all the facts are heard, I believe that a jury will find that there was no crime here," said lawyer Lee Smith.