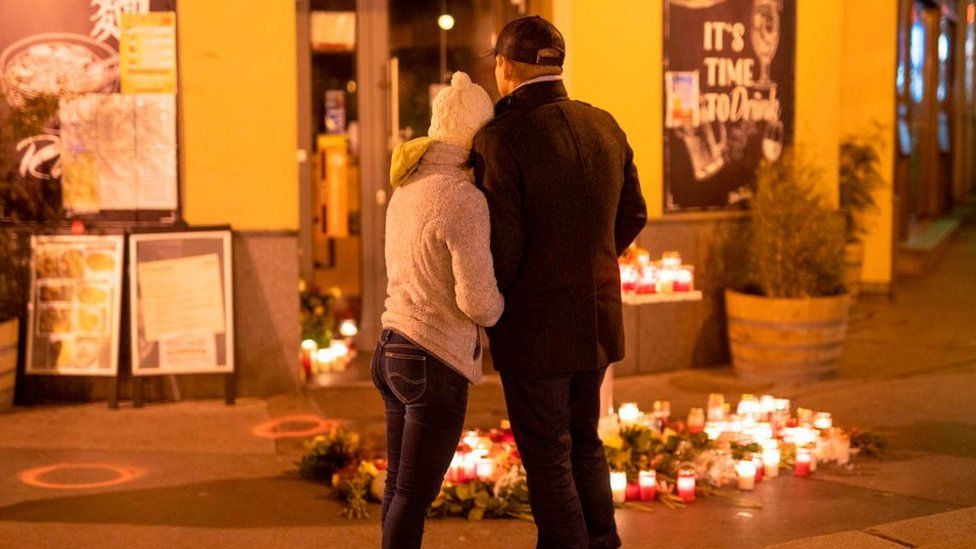 Four men have been given long jail sentences for being accomplices to murder in a deadly terror attack by a lone jihadist gunman in the heart of Austria's capital in November 2020.
Kujtim Fejzulai went on the rampage in Vienna's busy nightlife area known as the Bermuda Triangle, shooting dead four people and wounding 23 others. His nine minutes of terror finally ended when he was shot dead by police.
The men on trial were accused of helping him before the attack. Two others aged 22 and 23 were found not guilty of being accomplices to murder but were convicted of lesser terror-related offences.
The 20-year-old attacker, who had Austria and Macedonian nationality, had been radicalised in Austria and had served 18 months in jail for trying to join jihadist group Islamic State (IS), which said it was behind the murders.
The sentences were as follows:
Heydayatollah Z, 28, whose DNA was found on the Kalashnikov murder weapon and lived in the killer's flat for several weeks, was sentenced to life
Burak K, 24, who visited the killer hours before the attack, was jailed for 20 years
Adam M, who admitted providing a gun for €500 but denied knowing what the killer planned to do with it, was also given life
Ishaq F, 22, who was in jail with Fejzulai and was aware he had fantasised about an attack, was sentenced to 19 years
All have the right to appeal.
For almost four decades, Vienna had escaped the kind of large-scale attacks that have hit European capitals such as Paris, London and Berlin. That changed on 2 November 2020, when the gunman struck at the heart of the old city.
The area, with its narrow, cobbled streets, is home to Vienna's oldest church, St Ruprecht's, and to the city's main synagogue, the Stadttempl, the only Jewish house of worship to survive the Nazi Kristallnacht pogrom in 1938.
Quiet by day, at night it is one of Vienna's liveliest night spots. It was a warm evening, and many people were enjoying a final night out, ahead of a coronavirus lockdown in Austria. The shooting began at 8pm. The morning after, the steps of one traditional old restaurant were smeared with blood.
The interior ministry was strongly criticised for having failed to monitor the gunman even though they had been alerted to the danger.
The government, which admitted mishandling intelligence related to the attack, later brought in a heavily criticised anti-terror law, which allowed for increased surveillance and introduced a new offence of "religiously motivated" crimes. Judges, rights groups and the opposition criticised the legislation.