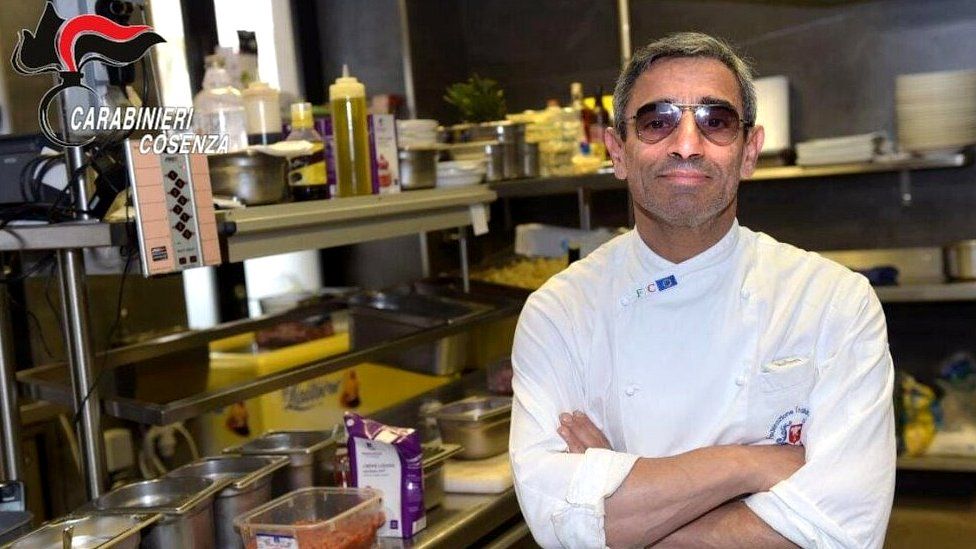 A convicted Italian mafia killer on the run since 2006 has been caught in France, having hidden in plain sight as a pizza chef for at least three years.
Edgardo Greco's capture in Saint-Étienne is the second high-profile mafia arrest by Italian authorities in a matter of weeks. Matteo Messina Denaro had been on the run for 30 years,  when he was detained on a visit to a clinic in Sicily.
Both men were wanted for carrying out grisly murders in the 1990s. While Messina Denaro was the "boss of bosses" for Sicily's notorious Cosa Nostra, Greco was part of the 'Ndrangheta organised crime mob who originate from the Calabria region in Italy's deep south.
The 'Ndrangheta are now the most powerful mafia in Italy and their tentacles stretch across Europe and South America. Greco, 63, was wanted for the murder of two brothers during a "mafia war" between two gangs in the early 1990s. Stefano and Giuseppe Bartolomeo were beaten to death at a fishmonger's in the small town of Cosenza in January 1991. Their bodies were never found and are believed to have been dissolved in acid.
Greco was part of a rival gang and he was also accused of the attempted murder of another man later that year in the same town. When a trial judge issued an arrest warrant for him in 2006, Greco went on the run. Eight years later, he settled in the French city of Saint-Étienne, south-west of Lyon, eventually taking up the job of pizzaiolo in an Italian restaurant.
Greco took on a new identity, calling himself Paolo Dimitrio. By now he had been given a life sentence back in Italy and was the subject of a European arrest warrant. But in July 2021 he was sufficiently confident of his new alias that he appeared in a local newspaper feature, boasting of his restaurant's "regional and home-made recipes" such as ravioli, risotto and tagliatelle.
Greco, using the name of a criminal from Puglia in the south-east of Italy, now had a grey beard and glasses. The feature called him an Italian by birth but at heart a local to Saint-Étienne.
He was, however, still being pursued by Italy's foremost anti-mafia prosecutor, Nicola Gratteri, who has spent decades tackling the rise of the 'Ndrangheta.
In a statement, Italy's Carabinieri military police said that since 2019, investigators had traced Greco's support network, which ultimately led them across the Alps to Saint-Étienne.
Interpol said its anti- 'Ndragheta operation also became involved, with French authorities carrying out surveillance of Greco's location. Italian police then confirmed his identity and moved in to arrest him.
Italian Interior Minister Matteo Piantedosi praised the police for bringing to justice one of Italy's worst criminals, while the head of the Calabria region, Roberto Occhiuto, said the arrest underlined Italy's commitment to the fight against all forms of organised crime.