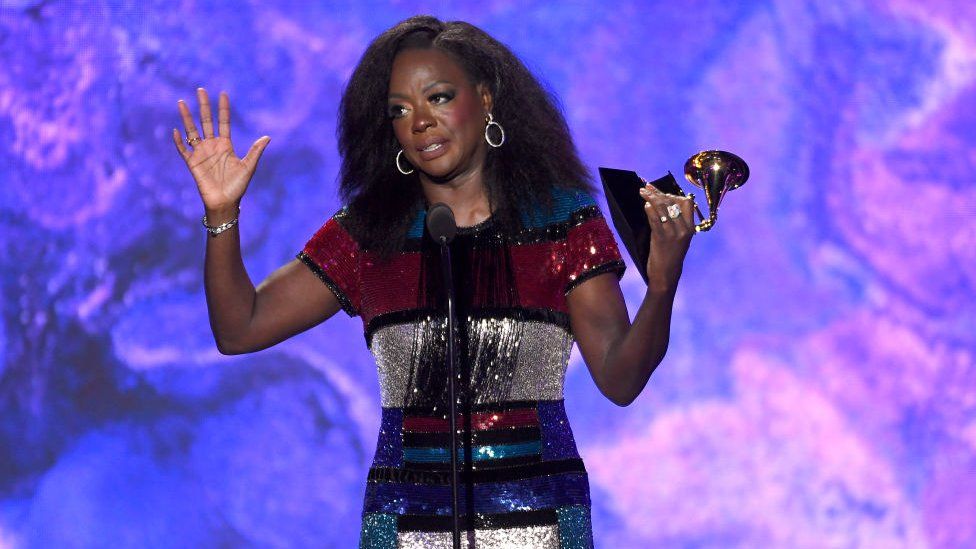 Viola Davis has become the 18th person to achieve the EGOT – winning an Emmy, Grammy, Oscar and Tony Award – as the Grammy Awards kick off in Los Angeles. Davis completed her collection by winning best audio book for her autobiography Finding Me.
"I wrote this book to honour the six-year-old Viola," said the star. "To honour her life, her joy, her trauma, everything." The star won the best supporting actress Oscar in 2016 for Fences.
Her Emmy Award recognised the TV drama How To Get Away With Murder, and she has two Tony Awards for her theatre work – featured actress in a play for King Hedley II (2001) and lead actress in a play for Fences (2010).
"I just EGOT!" announced the star on stage at the Grammys, becoming visibly emotional as she thanked her family for being "the best chapter in my book". Davis picked up her prize at the Grammys "premiere ceremony", which mostly recognises technical and genre categories.
The 17 other EGOT winners include Sir John Gielgud, Rita Moreno, Andrew Lloyd Webber, John Legend and Jennifer Hudson.
The four-hour show also saw rock legend Ozzy Osbourne pick up two awards, just days after he announced his retirement from touring. His latest record, Patient Number Nine, was named best rock album, while the song Degradation Rules won best metal performance.
Comedian Trevor Noah is hosting for the third time, with performances due from Styles, Lizzo, Bad Bunny and Sam Smith. But Noah has hinted that two pop megastars will also be gracing the stage.
"One of your favourite performers is a woman, and that woman is going to be performing at the Grammys," he said on the People's Every Day podcast this weekend.
"Then one of your other favourite performers is a man, and that man is going to be performing at the Grammys.
"And you're going, 'Oh, but that could be anyone.' But you know, it's not anyone, though, because you've been listening to their album the whole year and it's been huge."