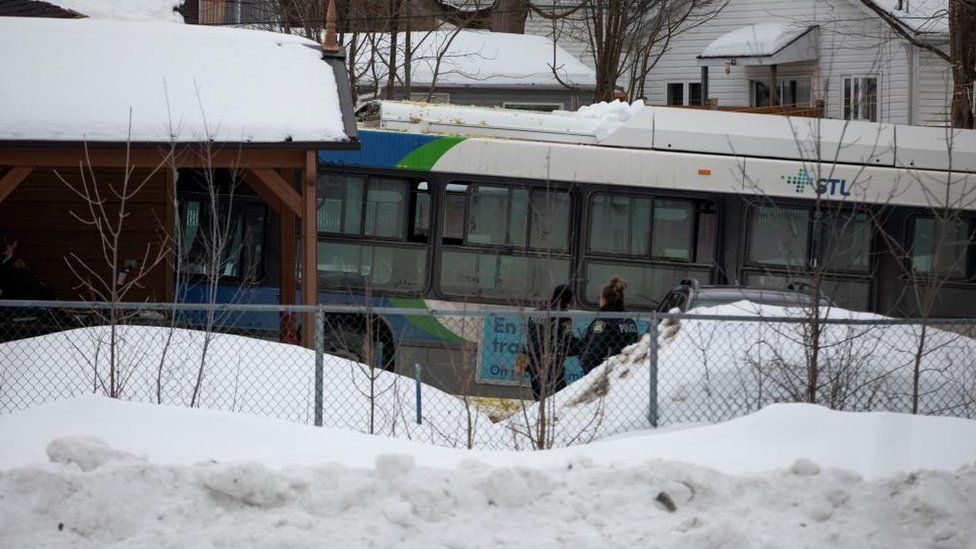 A driver who rammed a bus into a busy nursery in Quebec, killing two children, has been charged with first-degree murder.
Six children were injured in the incident – including some who became trapped under the vehicle – in Laval, near Montreal, on Wednesday morning.
Police believe the suspect, Pierre Ny St-Amand, deliberately drove the bus into the nursery during the morning drop-off. But they said a motive was unclear.
The 51-year-old, who had been employed as a bus driver by the local public transit system for 10 years, was charged with first-degree murder, attempted murder, aggravated assault and assault with a weapon or causing bodily harm.
While about a dozen others were injured, including the six children, police said they did not expect any more fatalities.
One eyewitness, Hamdi Ben Chaabane, told CBC News that the driver exited the bus after the crash, took off his clothes and began acting erratically. "It was a nightmare. It's horrible. He didn't stop yelling. He wasn't saying words," he said.
In a brief court appearance via video link, the suspect refused to speak during a hearing and was ordered by a judge to undergo a psychiatric evaluation. He appeared from a bed at a hospital in Montreal.
The nursery is located on a quiet cul-de-sac in Laval and the crash happened at about 08:30 local time. Police had cordoned off the area by Wednesday afternoon.
A crisis centre was set up nearby to help parents and families. By Wednesday evening, a makeshift memorial to the victims began to grow, as neighbours left stuffed animals and flowers in the snow.
"When you leave your children at the daycare for the day, you know that they're in good hands Quebec's Families Minister Suzanne Roy told reporters. "When an event like that can happen, it shakes us and shatters us."
Prime Minister Justin Trudeau, who is from Montreal, said his thoughts were "with families in Laval who are living incredibly difficult moments. We hope that everyone will be OK".