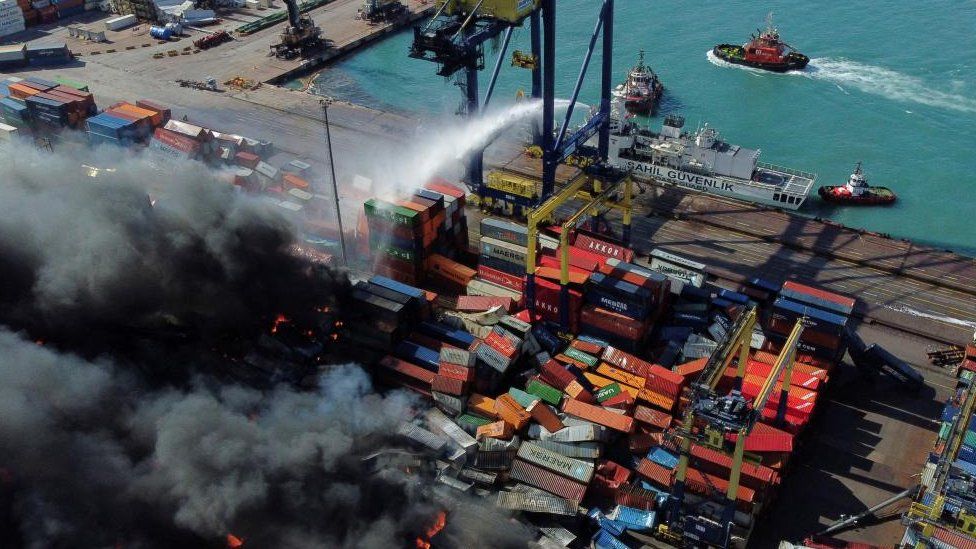 A huge fire at one of Turkey's main ports has been extinguished, the defence ministry has said.
The blaze at Iskenderun, on Turkey's Mediterranean coast, was caused by Monday's earthquakes, which have devastated parts of the country.
Hundreds of shipping containers caught fire, sending an enormous plume of dense, black smoke into the sky.
The authorities said that the fire was extinguished on Tuesday but it then reignited.
Military helicopters and planes were used to help bring the fire under control when fighting the flames from the land and sea did not work.
Among those helping to extinguish the blaze were firefighters from Turkey's largest city, Istanbul. The mayor there confirmed on Wednesday afternoon that the fire had been extinguished again and that efforts to cool the site were under way.
Iskenderun is one of two main container ports on Turkey's southern coast.
All operations were shut down there following Monday's earthquakes and major shipping firms were forced to divert their vessels to other terminals in the region.
Emergency services initially found it difficult to access the fire because of damage from the earthquakes and because containers were blocking the entrance.
The defence ministry also said on Wednesday that Turkish ships have begun delivering aid materials to the port that will be used in earthquake relief and would transport injured citizens to the nearby city of Mersin.
There has been no word yet on when the port will reopen to international ships as it will need to undergo a full inspection.
Despite the size of the fire, the flames did not spread to a section where flammable materials were stored, a source from the port told Reuters news agency.
The 7.8 magnitude earthquake struck at 04:17 local time at a depth of 17.9km (11 miles) near the Turkish city of Gaziantep. Twelve hours later, a second quake, which was nearly as large, struck 130km (80 miles) to the north.
More than 15,000 people are known to have died so far in Turkey and neighbouring northern Syria.