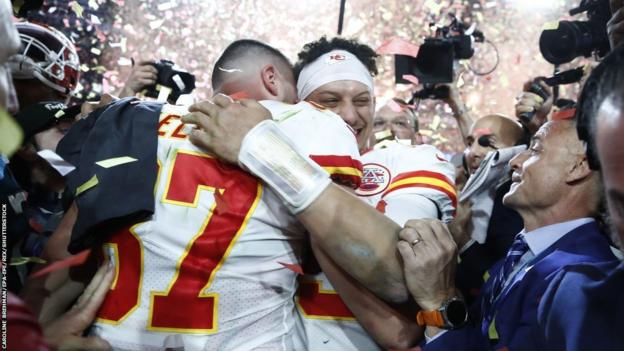 The Kansas City Chiefs became NFL champions for the second time in four years after fighting back to claim a thrilling 38-35 win over the Philadelphia Eagles.
The Chiefs trailed for much of Super Bowl 57 in Phoenix and were 27-21 down heading into the final quarter.
But despite limping after aggravating an ankle injury, quarterback Patrick Mahomes and veteran coach Andy Reid orchestrated a route back in front of more than 67,000.
Mahomes, who was named the season's Most Valuable Player for a second time last week, made touchdown passes to Kadarius Toney and Skyy Moore to put Kansas City in front for the first time.
The Eagles levelled after a third rushing touchdown by Jalen Hurts, followed by a two-point conversion by the third-year quarterback.
But a heroic 26-yard run by Mahomes, who suffered an ankle sprain earlier in the play-offs, made the ground for Harrison Butker to kick a game-winning field goal from 27 yards.
Mahomes' performance saw the 27-year-old become the first player since 1999 to win the season MVP, the Super Bowl and the Super Bowl MVP in the same season.
He has led the Chiefs to at least the AFC Championship game in all five seasons as a starter and many argued that, for the Reid-Mahomes era to be considered a dynasty, they had to win another Super Bowl.
"I am not going to say a dynasty yet, we are not done," warned Mahomes.
"I told you nothing was going to keep me off the field. I want to thank my team-mates – we challenged each other and it took everybody."
Tight end Travis Kelce has been a key weapon for Mahomes and scored an early touchdown but said: "I've got Andy Reid and Patrick Mahomes, I have a great team, we had an unbelievable run.
"We were uncharacteristic in the beginning [of the game] but everyone had that look in their eye that they would leave it all out there on the field and that is what we did."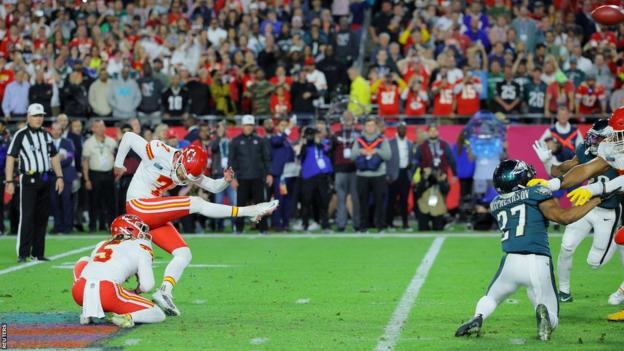 It was both a historic and rare Super Bowl as the NFL's showcase event came to Arizona's state capital for a fourth time.
It was the first Super Bowl to feature two black quarterbacks and the first to feature brothers on opposing teams, namely Travis Kelce and his older brother Jason, the Eagles centre. And it was rare because it featured the season's best two teams and the best two players – Mahomes and Hurts.
This is the highest-scoring Super Bowl since then but probably edged it for drama, with each team showing why they were so dominant during the regular season, both finishing with a 14-3 record.