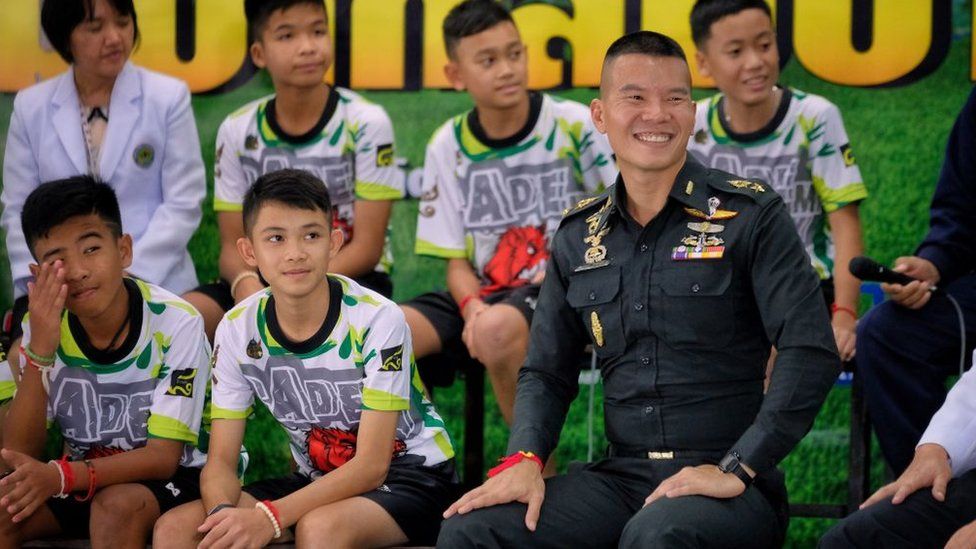 Duangpetch Promthep, one of the 12 boys who was rescued from a Thai cave in 2018, has died in the UK.
The cause of the death is unclear, but the teenager is reported to have sustained a head injury.
He enrolled in the Brooke House College Football Academy in Leicester late last year when he was 17.
He was the captain of the Thai boys' football team, which was trapped along with their coach for two weeks while exploring in the Chiang Rai province.
Wat Doi Wao temple in Chiang Rai, which the team frequented, posted condolences to Promthep – also known as Dom – on Facebook on Wednesday.
"May Dom's soul rest in peace," said the post, which was accompanied by pictures of the football team with monks.
Promthep was 13 then, while his teammates were aged between 11 and 16.
Zico Foundation, a Thai non-profit that had helped Promthep win a scholarship to study in England, also expressed condolences on Facebook.
Promthep was part of the Wild Boars (Moo Pa in Thai) football team, that had ventured into the Tham Luang cave on 23 June 2018 and was later trapped by rising flood waters. Tham Luang is Thailand's fourth biggest cave system and was one of the team's favourite haunts.
The boys and their coach emerged two weeks later, after a dramatic search and rescue effort involving nearly 100 Thai and foreign divers. The rescue made headlines around the world, and various films and books have been made on the story.