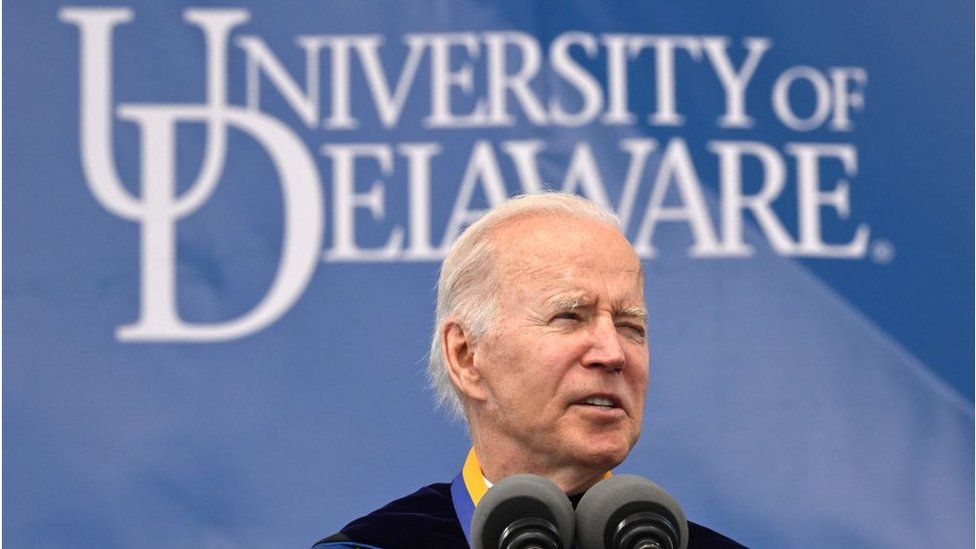 The FBI has conducted two searches within the last month at the University of Delaware to check if US President Joe Biden donated papers that could have been classified.
Investigators retrieved multiple boxes from the college on two different days, according to CBS News.
The university, Mr Biden's alma mater, houses thousands of boxes of files related to his time in the Senate.
Donald Trump faces a criminal inquiry over his handling of classified files.
Documents marked classified have been found in recent months at Mr Biden's home in Delaware and offices that he used in Washington DC. The FBI recovered some of the files during a search of his private residence at Wilmington last month.
Sources familiar with the investigation told CBS News that the searches at the University of Delaware were carried out at the end of January and beginning of February.
The material recovered did not appear to have classified markings, but the FBI is now reviewing the files, reports CBS. As with previous searches, Mr Biden and his team consented, meaning no warrant was needed, according to NBC News.
The college received 1,850 boxes of files from Mr Biden in 2012, however, those files have not been available to the public since then.
Mr Biden's personal lawyer, the US Department of Justice and the University of Delaware have not yet commented.
A special counsel, Robert Hur, has been appointed by the justice department to lead the investigation into how sensitive documents were handled by Mr Biden.
The home of former US Vice-President Mike Pence was also searched last week, after his aides came forward to say that they had discovered documents marked classified during their own search.
Former President Trump is facing a separate investigation after hundreds of papers with classified markings were found by FBI agents executing a search warrant at his Florida Mar-a-Lago estate last year.