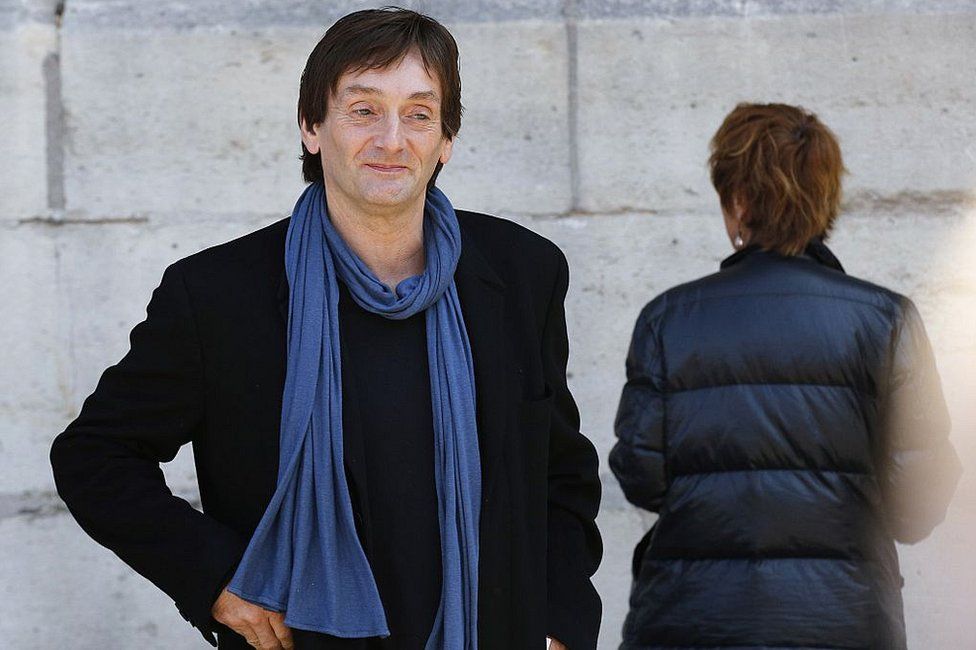 A popular French comedian known for his fight with drug addiction is facing charges after causing a tragic head-on crash under the influence of cocaine. Pierre Palmade, who is 54, left three people in the other car badly injured in the collision south of Paris.
A pregnant woman lost her baby. Her brother-in-law and his six-year-old son are in intensive care in hospital.
Mr Palmade is in police custody after he was escorted for questioning from hospital.
Two young men in their 20s fled from Mr Palmade's car after the accident. One of them has reportedly been arrested by police, alongside a woman who sheltered him from police. They are still searching for the other man.
The crash, which happened on a minor road last Friday evening in the village of Villiers-en-Bière, has shocked French society.
The popular comic actor has featured in several Asterix films and is well known for his TV and theatre appearances, but his troubles with drug addiction have been well documented for years. He was admitted to intensive care himself, but his condition has since stabilised.
After visiting him in hospital on Tuesday, Mr Palmade's sister Hélène released a statement saying he was "waking up little by little and is realising the horror of what has happened, what he caused", adding "he's devastated, he's ashamed".
The entertainer is expected to be charged with driving under the influence of drugs and causing injuries by dangerous driving. But he potentially faces a more serious charge of involuntary homicide if it is established that the baby, a girl, was alive when she was delivered by Caesarean section in hospital after the crash.
The woman had been visiting her in-laws, and her brother-in-law had offered to drive her home along with his son. The man, 38, is a father of three with an eight-year-old son and a seven-month-old baby.
The family's lawyer, Mourad Battikh, told a news conference how the 27-year-old woman, after the accident, managed to get out of the car before collapsing. He described how she was "instinctively thinking about the baby she had in her womb and repeatedly screaming 'my baby, my baby!'". It was her first baby and she was due to give birth in May.
The lawyer said she was devastated and wished to remain anonymous to try to piece her life back together. Her brother-in-law remains in intensive care after he was crushed between his seat an the steering wheel. He has had half a dozen operations in recent days. His son was disfigured in the accident and had an operation for a fractured jaw, the lawyer added.
The family, described by the lawyer as ordinary and hard-working, have turned down the comedian's apology and have said they would like to see him taken into police custody as quickly as possible, with no preferential treatment afforded to him because of his fame.
Mr Palmade's sister said earlier that he "will accept all the consequences of his actions with the terrible knowledge that he can never repair the damage he has caused". The comedian was previously found guilty of taking cocaine in 1995 and was arrested again for a drugs offence in 2019. He has been very open with his struggles with addiction and has often discussed them in media interviews.