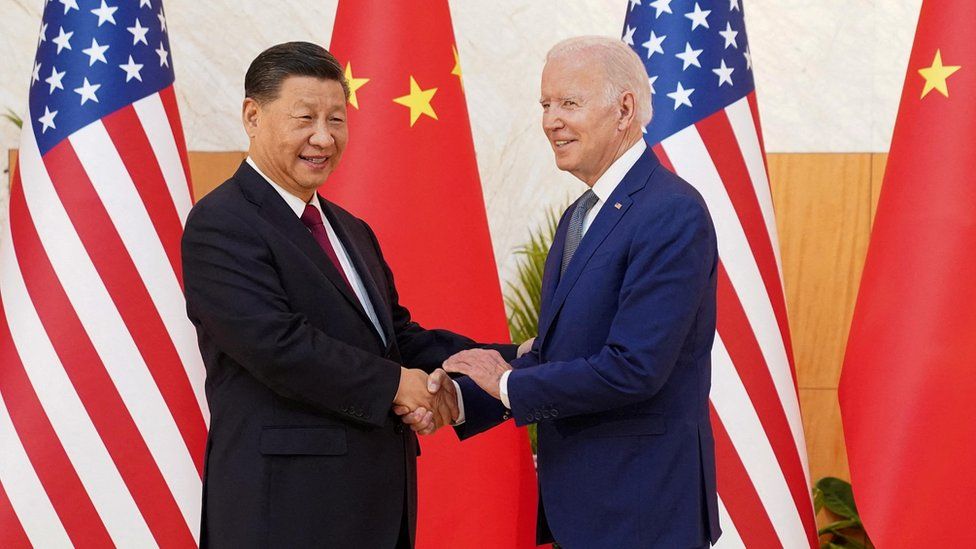 As the rift between the US and China over the balloon saga widens, so has the divide within the global community scrutinising their high-stakes dispute.
The latest testy exchange took place on Saturday, when US Secretary of State Antony Blinken met China's top diplomat Wang Yi on the sidelines of a security conference in Munich, in the first high-level meeting since the row began.
Mr Blinken said they would not "stand for any violation of our sovereignty" and said "this irresponsible act must never again occur". Mr Wang, meanwhile, called the episode a "political farce manufactured by the US" and accused them of "using all means to block and suppress China".
China continues to deny that they sent a spy balloon, even as the US continues to disclose more details of the object to back up their allegation. But beyond the dispute, the way both Beijing and Washington have responded to each other has come under close examination as the world grapples with the incident's implications for national security and geopolitical stability.
The net result, say observers, is that it has hardened positions – deepening distrust among those wary of China or the US – and made it significantly harder for Washington and Beijing to close the gap between them.
For some, the incident has heightened anxieties over the reach of Chinese espionage, as governments scramble to reassess what they know of China's surveillance capabilities. The US claims Chinese military balloons have crossed the airspace of more than 40 countries across five continents.
This week Japan – a key US ally – announced that after they had re-analysed past cases of unidentified flying objects, they "strongly suspect" that China had flown at least three spy balloons across their territory since 2019.
A Financial Times report quoted unnamed Taiwanese officials saying the island – another US ally, and one that is claimed by China – had been spied on by dozens of Chinese military balloons. Taiwan's defence ministry later clarified it had only spotted Chinese weather balloons – on Friday it found the remnant of one such object – but also warned they would not hesitate to shoot down any suspected military objects in its airspace.
For those convinced of the US allegations, the incident has highlighted an underestimation of China's surveillance capability – and the lengths Beijing would go to prove it.
Beijing undermined its own attempts to win trust and project the image of a responsible superpower with the way it has responded in the saga, according to some observers.
Beijing's subsequent claim that the US has in the past flown more than 10 spy balloons into China – which Washington has denied – was also "confusing", he added.
This week, US officials admitted that three other objects they shot out of the sky in North America were not likely foreign spy crafts. US President Joe Biden defended the decision as necessary to protect commercial air traffic, and also because at that time they "could not rule out the surveillance risk of sensitive facilities".
With both sides doubling down, what is clear is that the balloon blow-up has made reconciliation even harder.
The US Navy routinely conducts what it calls "freedom of navigation" exercises by sailing its military ships through the Taiwan Strait. But there are signs of a willingness to engage. Mr Biden said he plans on calling Chinese president Xi Jinping soon to discuss the incident.
Both leaders face domestic pressure to not be seen as backing down. As the balloon saga drifts on, the question now is how much political capital both leaders would be willing to spend to deflate tensions.