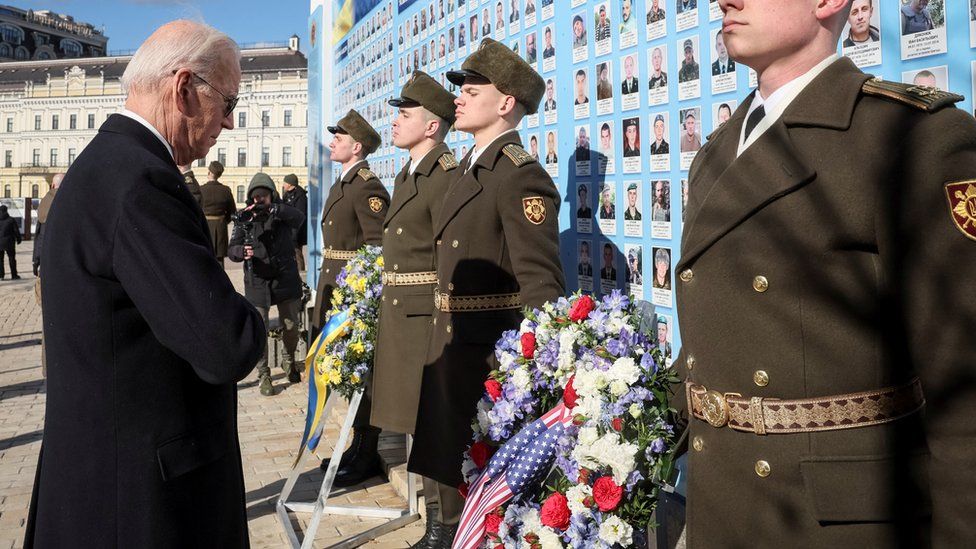 The US will back Ukraine in its fight against Russia for "as long as it takes", US President Joe Biden has said on an unannounced visit to Kyiv. "We have every confidence you're going to continue to prevail," he said.
Mr Biden's first trip to Ukraine as president came days before the first anniversary of Russia's invasion.
He said that Russia's President Vladimir Putin had been "dead wrong" to think Russia could outlast Ukraine and its Western allies. He met Ukrainian President Volodymyr Zelensky and the pair visited a memorial to soldiers who have died in the nine years since Russia annexed Crimea and its proxy forces captured parts of the eastern Donbas region.
Mr Biden's presence was intended to reaffirm America's "unwavering commitment to Ukraine's democracy, sovereignty, and territorial integrity", according to a White House statement.
He had taken a 10-hour train journey from Poland to reach Kyiv in secret, later returning to Poland. Russia was informed about the trip a few hours before President Biden's departure for "deconfliction purposes", a US official said.
After the visit, US Secretary of State Antony Blinken announced a new package of security assistance for Ukraine valued at $450m, including ammunition for howitzers and the Himars rocket system, Javelin missiles and air surveillance radars. The US will also provide Kyiv with an extra $10m in emergency assistance to maintain Ukraine's energy infrastructure, Mr Blinken said.
A new wave of sanctions against individuals and companies "that are trying to evade or backfill Russia's war machine" will also be announced later this week.
Mr Zelensky said Ukraine's victory over Russia depended on resolve and that he saw such determination in Mr Biden. "It is now and in Ukraine that the fate of the world order, which is based on rules, on humanity… is being decided," he said. He also said that the two leaders had discussed the possibility of sending other weapons. Mr Zelensky has repeatedly called for F-16 fighter jets, something the US and other allies have so far stopped short of approving.
Commenting on the trip, Russian foreign ministry spokesperson Maria Zakharova said failure would befall those who, as she put it, "sold their souls to the Americans".
In a scene that added drama to the most high-profile visit to Ukraine since the war began, air raid sirens wailed while President Biden and Mr Zelensky were in St Michael's Cathedral in central Kyiv. The sirens sound regularly in the city.
While other world leaders have visited Ukraine over the past year, the US president's appearance in Kyiv during a war in which American soldiers are not fighting is a show of unity at a time when Russia says Western support for Ukraine is waning.
The Ukrainian president's chief of staff, Andriy Yermak, said the visit had been strategic as well as historic. "Many issues are being solved and those that have stalled will be accelerated," he said.
The US is one of Ukraine's biggest allies and the state department has so far announced $24.9bn in military assistance. In January, Mr Biden announced that the US would send 31 battle tanks and longer-range missiles are also on their way. However, there is a growing political divide in the US over the amount of aid Kyiv should receive in future.
President Biden's visit to Kyiv came ahead of a three-day visit to Poland where he will meet the country's President, Andrzej Duda, and east European members of the Nato military alliance.