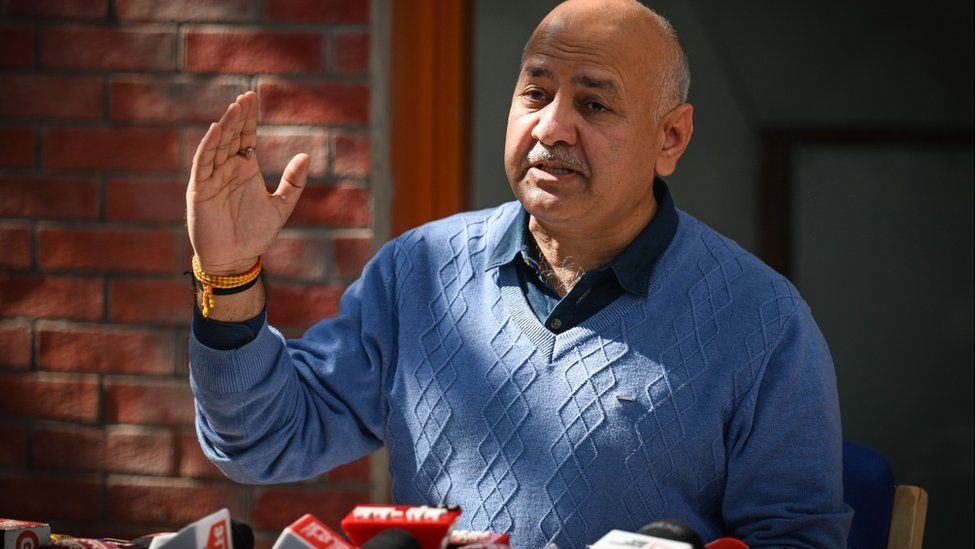 India's federal police have arrested the deputy chief minister of Delhi, Manish Sisodia, for alleged corruption.
The arrest came after hours of questioning in connection with alleged irregularities related to a liquor policy in the city. The policy, which saw new alcohol shops opened, was dropped after police began a probe.
Mr Sisodia and his Aam Aadmi Party deny the allegations, accusing the governing BJP of playing "dirty politics".
Questions of corruption are a sensitive matter for the Aam Aadmi Party (AAP), which emerged more than 10 years ago from a major movement against corruption.
It is trying to establish itself as a key opposition force to PM Narendra Modi's Hindu nationalist BJP, and has already won control of the Punjab state and the capital region Delhi.
India's Central Bureau of Investigation (CBI) said Mr Sisodia was arrested in connection with their investigation into Delhi's liquor regulations.
"He gave evasive replies and did not co-operate [with] the investigation despite being confronted with evidence to the contrary," it said. "Therefore, he has been arrested."
The AAP claimed the arrest was due to "political rivalry" and that it was a "fake case". Arvind Kejriwal, AAP party leader and Delhi's chief minister, said Mr Sisodia was innocent and the arrest was "dirty politics".
"There is a lot of anger among people because of Manish's arrest. People are watching everything. People will respond to this," Kejriwal tweeted. "This will boost our spirit. Our struggle will get stronger."