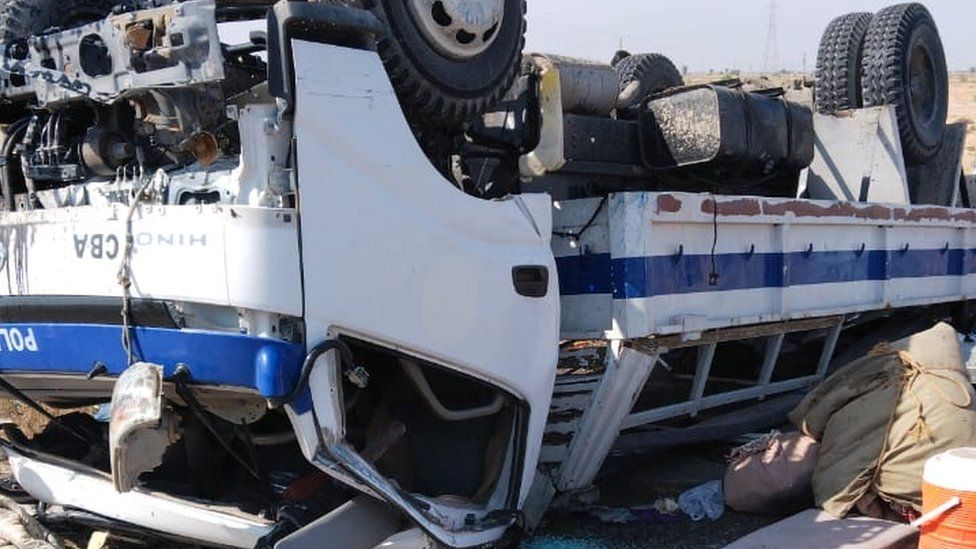 Nine security officers were killed and at least 13 others were wounded during a suicide attack in southwest Pakistan.
The blast happened in Balochistan province when the officers were returning to the provincial capital Quetta after policing a festival.
Images show a police truck crushed and overturned, with blood stains on the ground. This is the second attack on security forces in Balochistan within 24 hours. No group has claimed responsibility.
Kachhi district's Deputy Police Commissioner Sami Agha said that it was a suicide attack. Reuters reported that the attacker rammed a motorbike into the truck.
The area has been cordoned off and a bomb disposal team is on site to gather evidence, authorities say. The Balochistan government has condemned the attack and said that an investigation is under way.
Pakistan's Prime Minister, Shehbaz Sharif, has said those behind the attack were trying to destabilise the country.
He also tweeted his condolences, describing the officers as "heroes of the nation" who had been "martyred".
Balochistan's Chief Minister Abdul Quddus Bizenjo said: "All such conspiracies against peace in the province will be made unsuccessful with the public's support."
The attack on Monday is the latest in a series across Pakistan targeting security personnel.
A security official was killed and eight others were injured after a vehicle was targeted in a bomb attack in Gwadar, a port city in the province, on Sunday. The separatist Balochistan Liberation Front – a banned militant group – has claimed responsibility.
On 30 January, a bomb blast at a police mosque in the northwestern city of Pesharwa killed more than 80 officers.
It is unclear who is behind the latest incident, but separatists in the Balochistan region have been fighting the government for decades. The Pakistani Taliban has also claimed responsibility for a number of similar attacks in the past.
Balochistan is the country's poorest province and shares a large, porous border with Afghanistan and Iran.